Master Urban Planning
Mayor Bill de Blasio speaks with the family of Noshat Nahian, an 8-year-old killed while walking to school last month. Photo: NYC Mayor's Office Calling traffic fatalities an "epidemic" that deserves immediate attention from the city, Mayor Bill de Blasio launched his administration's "Vision Zero" agenda this afternoon, setting out to eliminate traffic deaths within a decade. The most important news to come out of today's announcement is that his administration will enlist multiple agencies to tackle the multifaceted problem of traffic violence. A working group led by the city's police, transportation, health, and taxi commissioners is tasked with coming up with an action plan by February 15. De Blasio also announced more immediate steps.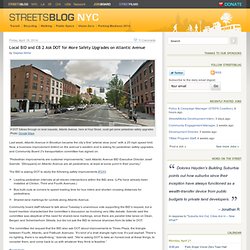 Architecture, Urban Space, City Research, Town Planning, Urban Development  - Goethe-Institut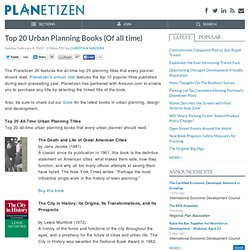 Top 20 Urban Planning Books (Of all time) | Planetizen: The Urban Planning, Design, and Development Network
The Planetizen 20 features the all-time top 20 planning titles that every planner should read. Planetizen's annual lists features the top 10 popular titles published during each preceeding year. Planetizen has partnered with Amazon.com to enable you to purchase any title by selecting the linked title of the book. Also, be sure to check out our Store for the latest books in urban planning, design and development.
What Admissions Officers Really Want
Wouldn't it be great to know exactly what admissions officers were thinking? Well, we decided to speak to some to find out exactly what it is that they're looking for. Most, it seems, hope to see applicants that are able to contribute to the program through their personal experiences and backgrounds. While academic credentials are undoubtedly the most important factor in the admissions process for most graduate schools, never discount your own personal circumstances – what makes you unique has direct relevance to the contribution you might make on a master's or PhD program. Be 'three dimensional' Randy Vener, director of admissions at France's American University of Paris (AUP), sees hundreds of international graduate applications every year for the eight master's programs available at the Paris-based university and is clear on why applicants are successful.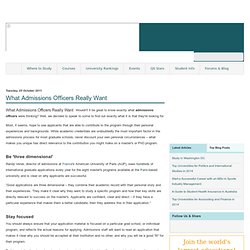 The Future of The City
LLGA | Cities Pilot the Future: Global Cities invite urban & social innovators to pilot their solutions. LLGA | Cities Pilot the Future is an initiative by leading global cities to discover, pilot and share inspiring solutions and methodologies to transform their communities. Cities present opportunities for innovations to improve the lives of their citizens. Solution providers present their innovations for evaluation by cities.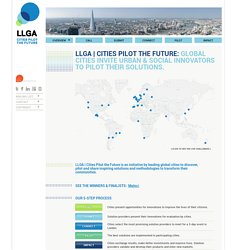 LIVING LABS GLOBAL AWARD 2012