Неделя 5. Подготовка преподавателей для дистанционного обучения
Неделя 5. Подготовка преподавателей для дистанционного обучения. Read the Most Popular EDUCAUSE Review Articles of 2010. One person at a time. There is a lot of writing about "change" and how to make it happen and become the new normal.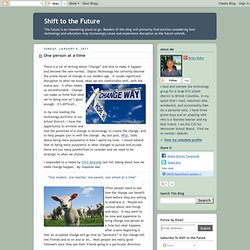 Digital Technology has certainly become the prime mover of change in our modern age. It causes significant disruption to what we know, what we are comfortable with, with the status quo – it often makes us uncomfortable. Change can make us think that what we're doing now isn't good enough. It's difficult… #edtech20 eSafety project : gr8 (the best ) edtools and apps used in 2010 #edchat you should try in new year 2011 in your projects. I wish you all HAPPY NEW YEAR 2011 and all your wishes come true and in 2011 I hope to have a good collaboration using PLN and discover toghether new edtools and application who can reform education worldwide using semantic web 3.0 and why not to meet personally :) .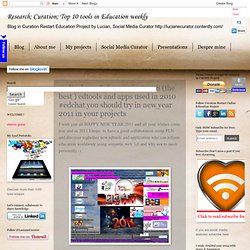 I want to show you my work and research in education using web 2.0 and social media but first I want to show you the baptism of my treasure - baby Amina where you can read how I use eSafety new technologies in XXI Century in education . Facebook for e-Learning : 20 educational applications. 8 Social Media News Items You Need to Know. Welcome to our weekly edition of what's hot in social media news.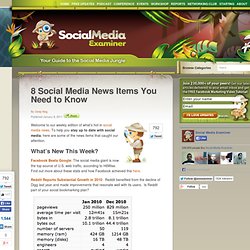 To help you stay up to date with social media, here are some of the news items that caught our attention. What's New This Week? Facebook Beats Google: The social media giant is now the top source of U.S. web traffic, according to HitWise. Find out more about these stats and how Facebook achieved this here. Twitter Educational Hashtags. The 69 Coolest Apps Of 2010. Don't Forget to participate in a contest where you can win an amazing e-Commerce template from TemplateMonster.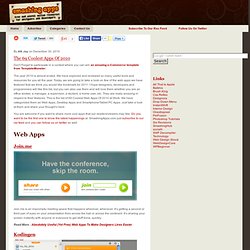 The year 2010 is almost ended. We have explored and reviewed so many useful tools and resources for you all the year. Today, we are going to take a look on few of the web apps we have featured that we think you would like bookmark for 2011. I hope designers, developers and programmers will like this list, but you can also use them and will love them whether you are an office worker, a manager, a supervisor, a student, a home user, etc. They are really amazing in respect to their features. Twitter as a Tool for Professional Development. Образование 2030 - форсайт 12-06-10. 50 Brain Facts Every Educator Should Know. January 27th, 2010 By Pamelia Brown The brain is perhaps the most fascinating organ in the human body.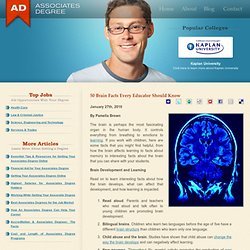 It controls everything from breathing to emotions to learning. If you work with children, here are some facts that you might find helpful, from how the brain affects learning to facts about memory to interesting facts about the brain that you can share with your students. 15 Twitter Netiquette Rules You Must Know | Web Do's & Don'ts. Want to write for WebD&D?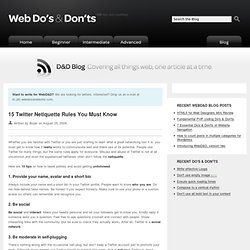 We are looking for writers. Interested? Drop us an e-mail at hi (at) webdosanddonts.com. Twitter for Learning – 55 Great Articles. Cogdoghouse - TwitterCycle. Dilemmas of Openness - Conclusion. In the spirit of strengthening the weakest link, I've examined six key dilemmas that can accompany openness in education: Imposing on the rights of othersBalancePrivacyScope of employmentCompetitionWhy?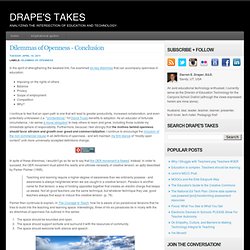 I continue to feel that an open path is one that will lead to greater productivity, increased collaboration, and even potentially unforeseen (i.e. "unintentional," h/t David Truss) benefits to adoption. As an educator of fortunate circumstance, I do sense a moral obligation to help others to learn and grow, including those outside my immediate sphere of responsibility.
Furthermore, because I feel strongly that the motives behind openness should favor altruism and growth over greed and commercialization, I continue to encourage the inclusion of the non-commercial clause in all definitions of openness - and will maintain my firm stance of "mostly open content" until more universally-accepted definitions change. "Twitter? I Don't Get It!" A 3-Step Guide For Newbies - Brandon Twyford – Marketing Communications. Pinning Down Cloud Computing. Формула реформирования математического образования. Кто-нибудь всегда спрашивает учителя математики: «Пригодится ли мне математический анализ в реальной жизни?».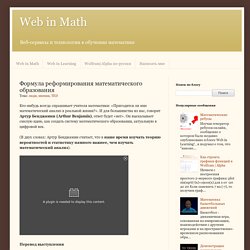 И для большинства из нас, говорит Артур Бенджамин (Arthur Benjamin), ответ будет «нет». Он высказывает смелую идею, как создать систему математического образования, актуальную в цифровой век. (В двух словах: Артур Бенджамин считает, что в наше время изучать теорию вероятностей и статистику намного важнее, чем изучать математический анализ). Crowdsourcing the Future of eLearning. Based on points submitted beforehand, and the discussion at the final plenary.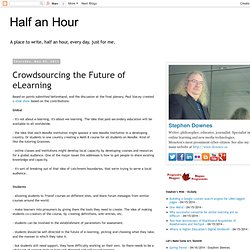 Paul Stacey created a slide show based on the contributions. Global - it's not about e-learning, it's about we-learning. The idea that post-secondary education will be available to all worldwide. - the idea that each Moodle institution might sponsor a new Moodle institution in a developing country. Meredith Ely: Growing Education Marketplace Good News for Schools and Startups. Earlier this year, I tried my luck at a TEDxSFED Speaker Search.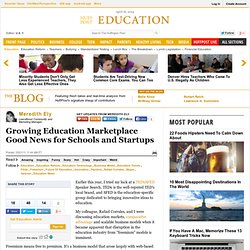 TEDx is the well-reputed TED's local brand, and SFED is the education-specific group dedicated to bringing innovative ideas to education. My colleague, Rafael Corrales, and I were discussing education markets, comparative advantage and scalable business models when it became apparent that disruption in the education industry from "freemium" models is imminent.
Freemium means free to premium. It's a business model that arose largely with web-based companies, and was articulated by Fred Wilson in 2006. With freemium, a company starts with a product. Evolving the E-Learning Experience for the 21st Century. What always stuns me are vendors who state they know what their learners want, but in reality have no clue, because they themselves do not see the technology and its usage among the masses. A greater number of people, worldwide are using SaaS then ever before, mobile products, tablets – especially the iPad – is growing at a feverish pace, people are using online storage, beyond just placing photos and media, and open source is continuing expansion. Each one of these features could be implemented into systems in six months or less. Each one is available today on the Internet for free and these types of products are gaining mass in the global market.
Your end users make up that mass, and a statement I hear often is that people aren't staying in the systems to fully benefit from it. Online Learning is so last year… By Sheryl Nussbaum-Beach As the CEO of a professional development company whose mantra is "Professional Development for the 21st Century Educator" I find myself continually cognitively juggling what's best for my clients, what's best for their students, and what's best for our contractors and staff in an effort to find some way of making it all align with what needs to change in education. It's evaluation time. We encourage our communities to be brutally honest when they evaluate us. Post University's Online Discussion Forum Guideline. Identity in a digital age. Much of my understanding of digital identity was founded in my studies into personal identity, whilst a student of social psychology. The work of William James and George Herbert Mead influenced my thinking, as did the study of sociologist Charles Cooley into 'the Looking Glass Self.'
Essentially, in this hybrid early school of social psychology, known as symbolic interactionism, theorists tried to explain the influence of audiences/other people on the behaviour of individuals. It was a fluid theory that allowed for behavioural adjustments on the fly, as people saw themselves 'reflected in the eyes of the other' - the impact of what they were saying - as they conversed. Education Progresses Best When Knowledge is Shared Openly and Freely. +Prensky-The_Reformers_Are_Leaving_Our_Schools_in_the_20th_Century-please_distribute_freely.pdf (объект «application/pdf»)
Knowledge Management: Creating a Social Intranet Where Your Employees can Learn. Пора пересмотреть обучение математике. The Lecture as a Trans-Medial Pedagogical Form. Every Teacher's Must-Have Guide To Facebook. По следам вебинара "Мир на пути к Smart Education" Imagination: Creating the Future of Education & Work. Искусство самопрезентации: советы коллегам. Month in Review - April's Most Popular Posts.
Top Twitter Hashtags for Teachers. Higher Education Bubble Will Burst - The College Solution. A.В.Хуторской. Хроника бытия. Стандарты новые, ошибки старые. Отклик на проект образовательных стандартов, одобренных Президиумом РАО. How Much Narration in eLearning? Our Lessons Learned by Don Bair & Mike Dickinson.
15 Twitter Netiquette Rules You Must Know | Web Do's & Don'ts. Who's Best Suited to Teach and Learn in Virtual Schools? From Classroom to Online, Think "Transform" not "Transfer" by Jane Bozarth. Communities of Practice: A Topology | PhD Blog (dot) Net. » How to use Twitter for Social Learning C4LPT. 10 Worst Practices in ICT for Education. The 5 Keys to Educational Technology. Survey: 98% Enterprise Respondents Use Open Source Software. Top 5 Most Indispensable Twitter Tools for Marketers. 11 Ways to Learn in 2011. Five Best Presentation Creation Tools. Learning Technology Trends To Watch In 2011. » 2010 in Review Part 2: My 10 favourite resources in 2010 Learning in the Social Workplace. 2010 Mashable Awards Winners. Survey Results – Professional Development Is Top Education Technology Wish List Item. LMS Software : Social LMS Software Solutions. 40+ Things You Need to Watch in 2011.
WE INNOVATE - Шесть предсказаний для социальных сетей в 2011 году. That whole "content is dead thing" isn't true. Globalization reigns. How to Create Effective Activities for Online Teaching. 2020 teachers.
---