Self help webpages for students
If you would like to try and find out more about a particular issue then you could explore the websites in this pearltree.
These sites have information on all sorts of issues; Mind and The Royal College of Psychiatrists sites have virtual leaflets that are free to read online: 'Living life to the full' allows you to work through material online with the intention of improving your mental wellbeing. 'Drink Aware' gives guidance on being safe in relation to alcohol. Mental Health Foundation. Mental Health Information. Welcome to the Royal College of Psychiatrists' Health Advice section where you will find readable, user-friendly and evidence-based information on various mental health problems, treatments and other topics, regularly updated by psychiatric experts.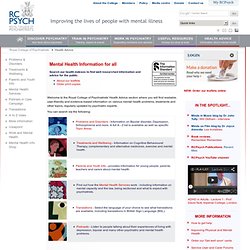 You can search via the following: Below you will find our complete alphabetical index - listing all leaflets produced by the College: What's New... New translations in Japanese and Persian (Farsi)Recovery and Resilience: Our President's new campaign The MENTAL Project - developing and producing a package of materials, including a series of three drama-based films which will give a real insight into the lives of children who are carers of parents with a mental illness.The Blog Zone - a new blog series starting with Fellowship in Leadership and Management by Mike Akroyd. Students Against Depression. Student Counselling in UK Universities. NHS Direct - Home. Mind, For better mental health | Mind. Living Life To The Full. Alcohol Advice | Drinkaware - for the facts about Alcohol. Health: Mental health. 19 April 2013Last updated at 17:57 People often feel sad during difficult life events One in four people are expected to experience a mental health problem, yet stigma and discrimination are still very common.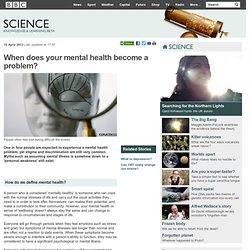 ---