Self help webpages for students
If you would like to try and find out more about a particular issue then you could explore the websites in this pearltree. These sites have information on all sorts of issues; Mind and The Royal College of Psychiatrists sites have virtual leaflets that are free to read online: 'Living life to the full' allows you to work through material online with the intention of improving your mental wellbeing. 'Drink Aware' gives guidance on being safe in relation to alcohol. Jul 16
Mental Health Information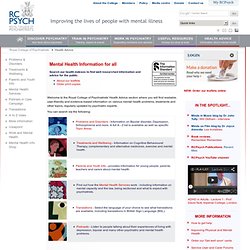 Welcome to the Royal College of Psychiatrists' Health Advice section where you will find readable, user-friendly and evidence-based information on various mental health problems, treatments and other topics, regularly updated by psychiatric experts. You can search via the following: Below you will find our complete alphabetical index - listing all leaflets produced by the College: What's New... New translations in Japanese and Persian (Farsi)Recovery and Resilience: Our President's new campaign The MENTAL Project - developing and producing a package of materials, including a series of three drama-based films which will give a real insight into the lives of children who are carers of parents with a mental illness.The Blog Zone - a new blog series starting with Fellowship in Leadership and Management by Mike Akroyd.
Students Against Depression
Do you ever feel like the student in the picture? Depression is a growing problem and may be affecting you. Resources for UK students This site offers UK students comprehensive information and discussion about: what depression is and how it works
Student Counselling in UK Universities
NHS Direct NHS Direct is now closed NHS Direct was decommissioned as of 31st March 2014.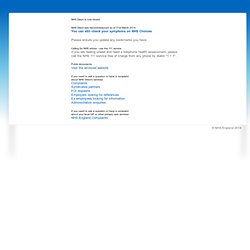 NHS Direct - Home
Living Life To The Full
Alcohol Advice | Drinkaware - for the facts about Alcohol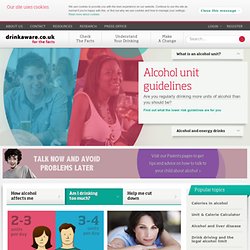 More facts about alcohol... Drinkaware is an independent UK alcohol awareness charity that provides consumers with information about the effects of alcohol on their lives and lifestyles, allowing them to make informed decisions about their drinking. Our education programmes, expert information, and resources help create awareness around alcohol units and alcohol related issues. Established in 2007, Drinkaware is funded by voluntary donations from the alcohol industry and works alongside the medical community, government and drinks manufacturers and retailers to achieve its goals. How can Drinkaware help me?
BBC - Health: Mental health
19 April 2013Last updated at 17:57 People often feel sad during difficult life events One in four people are expected to experience a mental health problem, yet stigma and discrimination are still very common.