Frameworks
Play
Angular. Mobile. Rails. Tika/Solr/Lucne. File: README.txt [caldersphere's warbler-1.3.3 Documentation] Warbler is a gem to make a Java jar or war file out of any Ruby, Rails, Merb, or Rack application.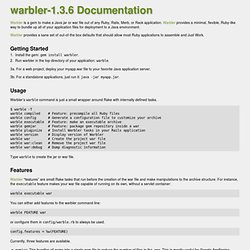 Warbler provides a minimal, flexible, Ruby-like way to bundle up all of your application files for deployment to a Java environment. Warbler provides a sane set of out-of-the box defaults that should allow most Ruby applications to assemble and Just Work. Getting Started Install the gem: gem install warbler.Run warbler in the top directory of your application: warble. 3a. Deploy a Rails 3, Sqlite3 application in Tomcat using JRuby. And have a Ruby version running side-by-side.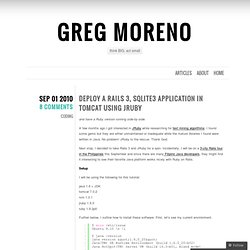 A few months ago I got interested in JRuby while researching for text mining algorithms. I found some gems but they are either unmaintained or inadequate while the mature libraries I found were written in Java. No problem! JRuby to the rescue. Thank God. Online - MathJax: Formeln und Gleichungen im Browser. Die Darstellung von Formeln und Gleichungen im Browser ist keine ganz triviale Angelegenheit, meist wird der Einfachheit halber eine entsprechende Abbildung eingebunden.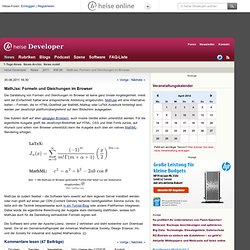 MathJax will eine Alternative bieten – Formeln, die im HTML-Quelltext per MathML-Markup oder LaTeX-Ausdruck hinterlegt sind, werden per JavaScript plattformübergreifend auf dem Bildschirm ausgegeben. Das System läuft auf allen gängigen Browsern, auch mobile Geräte sollen unterstützt werden. Für die eigentliche Ausgabe greift die JavaScript-Bibliothek auf HTML, CSS und Web Fonts zurück, auf Wunsch (und sofern vom Browser unterstützt) kann die Ausgabe auch über ein natives MathML-Rendering erfolgen. Abb. 1: Mit MathJax im Browser gerenderte Formel (hier leider nur per Screenshot eingebunden) Bild: mathjax.org.
HTML5 Boilerplate - A rock-solid default template for HTML5 awesome.
---