Development
otros, plataformas, tools, etc
A few years back I started dallying with test-driven development, but I never fully committed to the practice. This wasn't because I didn't believe in the value of TDD; it was more a matter of not completely understanding how to incorporate "test first" into my everyday development. Back in my web forms days, I could point fingers at the framework for my ignorance and laziness. After all, web forms weren't exactly designed for testability so who could blame me for not embracing TDD in those conditions, right? But when I switched to ASP.NET MVC and quickly found myself fresh out of excuses and it became instantly clear that it was time to get my head around red-green-refactor once and for all or I would regretfully miss out on one of the biggest selling points the new framework had to offer. I have previously written about how I learned ASP.NET MVC.
http://johnnycoder.com/blog/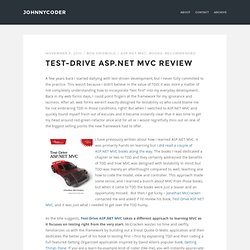 ADO.NET Data Providers A Powerful New Way to Connect Your .NET Applications to ... Easily build applications that connect to Google, QuickBooks, Salesforce.com, and more in minutes using standard Visual Studio wizards.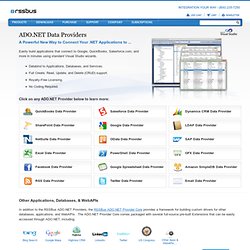 ADO.NET Data Providers
Outercurve Foundation Overview