Stumbleupon
My stumbles
Boat Bridge. DJ Jesus. List of Unusual Deaths. This is a list of unusual deaths.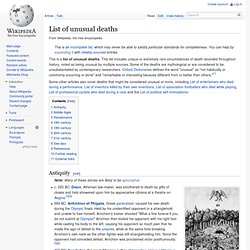 This list includes unique or extremely rare circumstances of death recorded throughout history, noted as being unusual by multiple sources. Some of the deaths are mythological or are considered to be unsubstantiated by contemporary researchers. Grafitti on Iceberg. Easter Island Pez. 10 Yearbook Captions. Funny math. Borderline Genius. Piano Stairs. Audi. We found this fast and easy install at the auto show in Frankfurt earlier this year.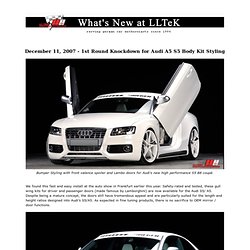 Safety-rated and tested, these gull wing kits for driver and passenger doors (made famous by Lamborghini) are now available for the Audi S5/ A5. Despite being a mature concept, the doors still have tremendous appeal and are particularly suited for the length and height ratios designed into Audi's S5/A5. As expected in fine tuning products, there is no sacrifice to OEM mirror / door functions. Wingsuit Flying. A wingsuit flyer over The Netherlands A wingsuit flight normally ends with a parachute opening, and so a wingsuit can safely be flown from any point that provides sufficient altitude for flight and parachute deployment (normally a skydiving drop aircraft or BASE jump exit point).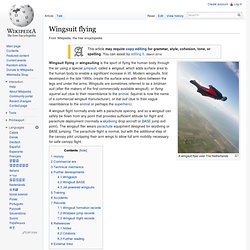 The wingsuit flier wears parachute equipment designed for skydiving or BASE jumping. The parachute flight is normal, but with the additional step of the canopy pilot unzipping their arm wings to allow full arm mobility necessary for safe canopy flight. Johnny Depp Once Said. 21 Worst Bootleg. The new title explains the look on Drew Barrymore's face.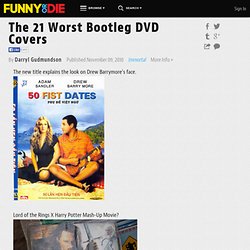 Lord of the Rings X Harry Potter Mash-Up Movie? Not how I remember the Star Wars series Ooooh the Mel Gidson classic, The Passion of the Cheist! Life's Instructions. Music Map. Lord's Prayer. Convicted forger A.
Schiller was serving his time in Sing Sing prison in the late 1800s when guards found him dead in his cell. On his body they found seven regular straight pins whose heads measured the typical 47/1000ths of an inch or 1.17 millimeters in diameter. Under 500 magnification it was found that the tiny etchings seen on the heads of the pins were the words to The Lord's Prayer, which is 65 words and 254 letters long. Fast Cars. Lamborghini Sesto Elemento. Dinosaurs Can't Hug. Products Sets Collections Items.
55 Rally Signs. Funny Text. Einstein Quote. 4 actors-same on every poster. Will Smith Maintains Eye Contact at All Costs Actually, Will Smith and the millions of dollars every single one of his movies makes at the box office beg to differ.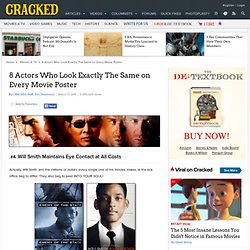 They also beg to peer INTO YOUR SOUL! But unlike Zoolander, Smith has had a second look from the start: a goofy grin that seems to say, "Your daughter is safe with me, sir. " Cupcakes. Mistaken Identity. In 1903, a prisoner named Will West arrived at Leavenworth.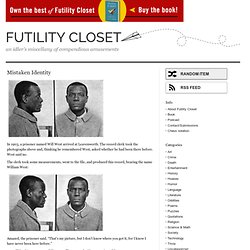 The record clerk took the photographs above and, thinking he remembered West, asked whether he had been there before. West said no. The clerk took some measurements, went to the file, and produced this record, bearing the name William West: Amazed, the prisoner said, "That's my picture, but I don't know where you got it, for I know I have never been here before." Incredibly, this was true. Funny Customer Quotes. Customer: "Look!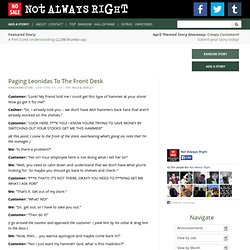 My friend told me I could get this type of hammer at your store! Now go get it for me!" Rubik Cube Art. Conversation Starter. Sony Wrist Phone. Funny Text. Crazy rabbit. Magic Green Hat. Lamborghini Gallardo. Lamborghini. Lamborghini Maduro. ___will___you. Colts Hugging. When Life Imitates Art. Evolution of Cars. Anagrams. Magic Chair. Cannibalistic Pumpkin Carving. I thought I would try my hand at carving the popular cannibalistic pumpkin that I've seen so many times before.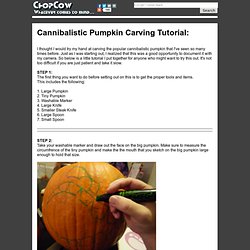 Just as I was starting out, I realized that this was a good opportunity to document it with my camera. So below is a little tutorial I put together for anyone who might want to try this out. It's not too difficult if you are just patient and take it slow. STEP 1: The first thing you want to do before setting out on this is to get the proper tools and items. This includes the following: Hidden in Plain View. Hidden in Plain View During WW II Lockheed (unbelievable 1940s pictures). This is a version of special effects during the 1940's. I have never seen these pictures or knew that we had gone this far to protect ourselves. Tom Mabe-Crime Scene. Littlegrey Chatter Box If Miyazaki Films Were Like Other Anime Jeihot - I would have been fun if only the video would open. Where Is My Beard? Upside-Down-Ternet. My neighbours are stealing my wireless internet access. I could encrypt it or alternately I could have fun. I'm starting here by splitting the network into two parts, the trusted half and the untrusted half.
The trusted half has one netblock, the untrusted a different netblock. Ferrari. Bugatti. Underwater Bedroom. This is your LIFE. Funny Movie Marquees.
---