Smykker
How to make beaded jewelry. Tutorials. Sew.Craft.Create.: Rosette Bracelet Tutorial! DIY Woven Chain Bracelet. Chain link bracelets, with colorful threads woven through them, have been popping up here and there.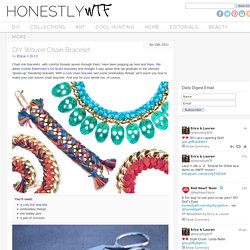 We adore Aurèlie Bidermann's Do Brazil bracelets and thought it was about time we graduate to the ultimate "grown-up" friendship bracelet. With a curb chain bracelet and some embroidery thread, we'll teach you how to make your own woven chain bracelet. DIY Flower Halo. You'll start by cutting 2 circles from the piece of felt at approximately 2″ in diameter.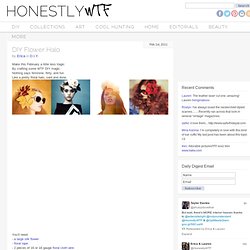 Form the wires of your halo by molding and bending each piece into a half circle. Lay the two half circles opposite of each other to create a single circle, laying it over the top of your head to check the fit. :::: OutsaPop Trashion recycled style DIY fashion eco sustainable refashion blog ::::: DIY - braided hex nut bracelet. Kirbee Lawler Wooden Brooches. New wool landscape brooches. I've been working on just a few new brooches lately and wanted to give you a peek.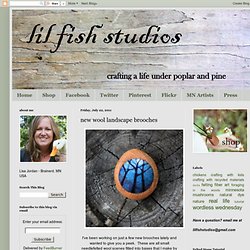 These are all small needlefelted wool scenes fitted into bases that I make by hand. I was really liking how the cracks in this stump lined up with the leafless trees in this nighttime scene. This one has a teardrop shaped base made from an oak limb I brought in from the woods. I think with all this heat we've been having I was subconsciously seeking those leafless winter nights in the woods. Braided Leather Bracelet. Drill Natural Stone For Jewelry-Making.
---