DIY, Craft
Dollar Store Crafts. Home Page | Sublime Stitching. Duo Fiberworks - Duo Fiberworks - Tutorial: Rustic Leather Sketchbook. We're going to be posting tutorials for stocking stuffer gifts for children every day this week.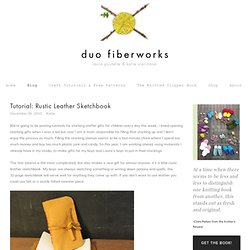 I loved opening stocking gifts when I was a kid but now I am a mom responsible for filling that stocking up and I don't enjoy the process as much. Filling the stocking always seems to be a last-minute chore where I spend too much money and buy too much plastic junk and candy. So this year, I am working ahead, using materials I already have in my studio, to make gifts for my boys and Laura's boys to put in their stockings. This first tutorial is the most complicated, but also makes a nice gift for almost anyone- it's a little rustic leather sketchbook. My boys are always sketching something or writing down potions and spells, this 32-page sketchbook will serve well for anything they come up with.
Cross Stitch Charts - Sew and So.
DIY Inspo. Morro. Natur. Smykker. Klær. A Belated Valentine. Hello everyone!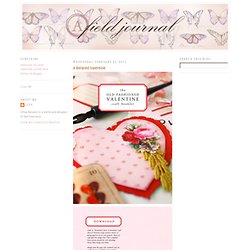 February is just flying by, and so far it has been full of exciting changes. I turned twenty-three, relocated to a new city and started my first post-college job. Earlier this month I began working as a Jr. Graphic Designer at Stampington & Co. — an arts and crafts magazine publisher. Their range of publications includes Artful Blogging, Somerset Studio and so many others (I'm still getting to know them all!).
---