Quotes
Underlined Book Quotes Become Clever Illustrations. Bookworm or not, you can't help but enjoy these black and white illustrations of literary quotes by Evan Robertson.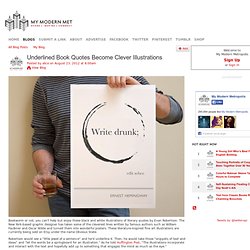 The New York-based graphic designer has taken some of the cleverest lines written by famous authors such as William Faulkner and Oscar Wilde and turned them into wonderful posters. These literature-inspired fine art illustrations are currently being sold on Etsy under the name Obvious State. Robertson would see a "little jewel of a sentence" and he'd underline it. Then, he would take those "snippets of text and ideas" and "let the words be a springboard for an illustration. " As he told Huffington Post, "The illustrations incorporate and interact with the text and hopefully add up to something that engages the mind as much as the eye. " 625560_10151999076800603_1921740157_n.jpg (191×328)
215516_10151999076655603_942942671_n.jpg (300×300) 283682_10151999076505603_1199239945_n.jpg (273×185) 531230_10151962853705603_2112344351_n.jpg (477×750) 554286_10151494473035603_1593900612_n.jpg (400×579) 295269_10151494472880603_1959010281_n.jpg (357×500) 581988_10151494472725603_940208264_n.jpg (251×320) 423740_10151379606300603_1080587_n.jpg (500×378)
400973_10151148721005603_1995015141_n.jpg (320×213) Ears.jpg (444×667) Fourth.jpg (621×430) S.O.L.jpg (427×585) Uspspc.jpg (623×541) Completely.jpg (574×427) Blue.jpg (701×481) Femed.jpg (610×414) College2.jpg (667×446) College1.jpg (646×434) Jailtime.jpg (699×466) Human-Puzzle.jpg (480×670) Boxers.jpg (282×400) 1296843538453_f.jpg (400×327) 1302830318365_f.jpg (400×253)
Sending Messages with Glowing Neon Letters. Artist Lee Jung sends all kinds of tangible messages with these neon text-based installations.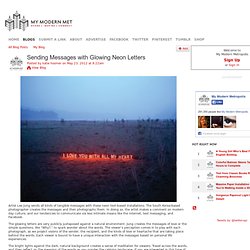 The South Korea-based photographer creates the messages and then photographs them. In doing so, the artist makes a comment on modern day culture, and our tendencies to communicate via less intimate means like the Internet, text messaging, and Facebook. Friendzone..-.jpg (500×364) Grow.jpg (400×278) Okay.jpg (268×400)
Goodperson.jpg (400×280) 2012-05-09-polarbear.jpg (700×978) Goodadviceaboutsimplifying.jpg (500×773) Inhuman.jpg (400×296) A Healthy Dosage of Motivation to Get You Through the Day. Tumblr_lrb3a5Mp6z1qivabmo1_500.png (500×400) Welldone.jpg (400×369) Yse.mylightingeffectshhh.jpg (400×287) Glam.jpg (400×251) Loveisnotenough.jpg (400×270) Have You Ever. _lzago7RmJy1qcanv3o1_400.jpg (375×391) Inspiring Words: Your Required Dose of Motivation to Get You Through (25 Pics) Onback.imonly17andivebeento7countries.jpg (311×400)
Hell.jpg (400×271) Sentencewithoutspaces.jpg (450×360) Quotable-Humor-08.jpg (530×316) Bizarre Websites On Which You Can Kill Time With Style - Smashing Magazine - StumbleUpon. Advertisement Modern Web-building technologies allow designers to realize their most daring and creative ideas.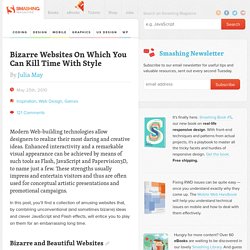 Enhanced interactivity and a remarkable visual appearance can be achieved by means of such tools as Flash, JavaScript and Papervision3D, to name just a few. Words To Live By: It's A Virtue | Mom Spark™ - A Blog for Moms. BestQuote.jpg (500×337) Dealing-With-My-Imperfection.png (584×351) Always1.jpg (500×380) Saturday Morning Breakfast Cereal. <map name="admap71632" id="admap71632"><area href=" shape="rect" coords="0,0,728,90" title="" alt="" target="_blank" /></map><table cellpadding="0" cellspacing="0" style="width:728px;border-style:none;background-color:#ffffff;"><tr><td><img src=" style="width:728px;height:90px;border-style:none;" usemap="#admap71632" alt="" /></td></tr><tr><td style="background-color:#ffffff;" colspan="1"><center><a style="font-size:10px;color:#0000ff;text-decoration:none;line-height:1.2;font-weight:bold;font-family:Tahoma, verdana,arial,helvetica,sans-serif;text-transform: none;letter-spacing:normal;text-shadow:none;white-space:normal;word-spacing:normal;" href=" target="_blank">Ads by Project Wonderful!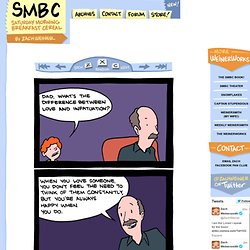 Your ad here, right now: $0</a></center></td></tr></table> Archives Contact Forum Store! How-To: The Cascade/Waterfall Braid - StumbleUpon. The waterfall braid also known as the cascade braid recently exploded as the new "trend braid" of the season.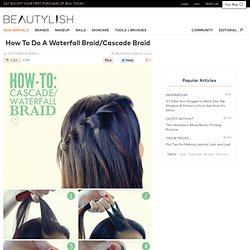 The waterfall effect looks cool and complex, but it's easier to style than you think. Give this beautiful braid a try when Beautylish takes you through the how-to! Section Off. InLifePeople.jpg (500×299) Ursula K. LeGuin quotes. Over-Thinking....jpg (500×341) Best Quotes and Pieces of Advice. _lz03v6yiJB1qlccb8o1_500.jpg (500×105) WhatYouDoToday.png (500×303)
_lz03tmMBVv1qlccb8o1_500.jpg (500×138) _lzb7ztS2YD1r8hgzmo1_500.jpg (486×500) Everythings Right - StumbleUpon. 33_ways_to_stay_creative-500x646.jpg (500×646) Justsomestreetart.jpg (480×580) (365) Days of Tumblr, Part One & From up North | Design inspiration & news - StumbleUpon. Eleven months ago Canadian designer Aaron Christopher Judd started a project called "365 Days of Tumblr" where he posts a new image/quote everyday for a whole year.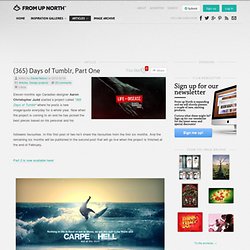 Now when the project is coming to an end he has picked the best pieces based on his personal and his followers favourites. In this first post of two he'll share the favourites from the first six months. And the remaining six months will be published in the second post that will go live when the project is finished at the end of February. Yellow2.jpg (615×475) Secrets-Which-Ones-Are-In-You.jpg (500×279) 526. Inspirational quotes | #433.
---