Music
Grey's Anatomy Soundtrack - All the Grey's Anatomy's musics !
EN VOGUE - BACK TO LIFE, BACK TO REALITY LYRICS
Music Videos/Individual Songs
Homepage - Know Your Genre
Sometimes you simply need a few song ideas to workout to. I've compiled my favourite list of "Power Workout Songs" to get you pumped and motivated at the gym. Who knows you could even get super buff with one of these tracks – on repeat. Enjoy… Rock Workout Songs Metal and Harder Rock Workout Songs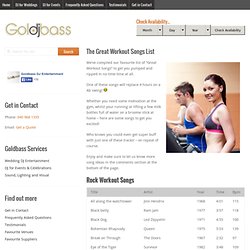 The orchestral score of Lost is composed, orchestrated, and produced by Michael Giacchino and has been released on a series of soundtrack albums by Varèse Sarabande . [ edit ] Soundtracks [ edit ] Season 1 On March 21, 2006, the original television soundtrack to Lost was released by the record label Varèse Sarabande . It includes full length versions of the themes heard on the show during the first season. The track listing is as follows: [ 1 ]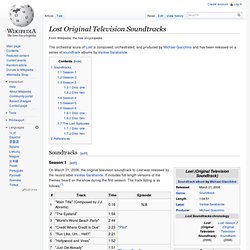 Lost Original Television Soundtracks
20 Great "Fuck You" Songs
Cee Lo Green – "Fuck You" A contemporary fuck you classic that's classless, just like the object of Cee-Lo's soulful, self-aware anger. Never before has a song been so perfect for both a minivan commercial and a divorce party.