Mods
Everything updated for 1.5.1. Read this entire post. All of it. Downloading the mods means you agree to the disclaimer. You can skip the FAQ, but if you have an issue, consult it first, before consulting us. If you have an issue answered in the FAQ or this post itself, we won't help you.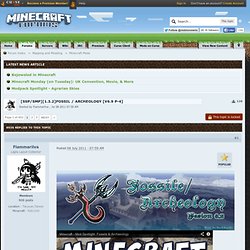 ====Menu==== ====New Blocks==== 1)Fossil Spoiler: These fossil blocks looks like stone,but harder then stones.
8.1]Fossil / Archeology [v4.9]
DOWNLOAD More Creeps AND Weirdos v2.62a UPDATE for MC 1.2.5 DOWNLOAD More Creeps AND Weirdos v2.62a download mirror 1 When you click download, you will see a countdown in the upper right corner which will turn to SKIP AD. Just wait for the SKIP AD and click it.
8.1] MoreCreeps & Weirdos v2.32 SPAWN & BUG FIXES - GROW RAY - let's get big! ZEBRA ARMOR and HOTDOG HEAVEN for those hardworking HotDogs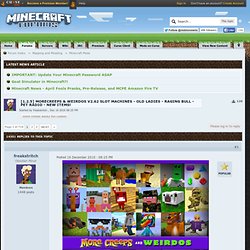 Note AdventureCraft is compatible with 1.3.2 via its installer but it only has features from beta 1.7.3 and back. AdventureCraft, is a stand alone Minecraft mod designed to let players create adventure maps for other players. It allows you have full control of how mobs spawn based on the player triggering blocks with a custom trigger system. There is plenty of additional features as well to aid with making adventures that you can check out in the features section or the various youtube videos of features. I have included a small sample map showing off some of the early features.