UXS2041
Video games stir up more controversy between kids and parents than almost anything else. Kids love 'em - and parents, well, at best have mixed feelings about them. There is a terrific recent book which addresses many of the issues surrounding video games.
Kids, Parents, and Video Games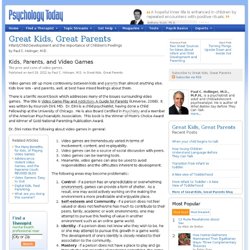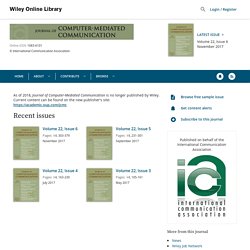 Gender and Computer Games: Exploring Females' Dislikes Tilo Hartmann School of Communication University of Erfurt Christoph Klimmt Department of Journalism and Communication Research Hanover University of Music and Drama Abstract On average, girls and women are less involved with video games than are boys and men, and when they do play, they often prefer different games.
Gender and Computer Games: Exploring Females' Dislikes
Online Game Sales to Surpass Retail by 2013, Total Worldwide Game Sales at $81 Billion in 2016 - DFC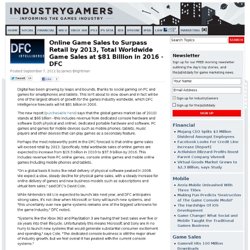 Posted September 7, 2011 by James Brightman Digital has been growing by leaps and bounds, thanks to social gaming on PC and games for smartphones and tablets. This isn't about to slow down and in fact will be one of the largest drivers of growth for the games industry worldwide, which DFC Intelligence forecasts will hit $81 billion in 2016. The new report ( purchasable here ) says that the global games market (as of 2010) stands at $66 billion - this includes revenue from dedicated console hardware and software (both physical and online), dedicated portable hardware and software, PC games and games for mobile devices such as mobile phones, tablets, music players and other devices that can play games as a secondary feature. Perhaps the most noteworthy point in the DFC forecast is that online game sales will exceed retail by 2013. Specifically, total worldwide sales of online games are expected to increase from $19.3 billion in 2010 to $37.9 billion by 2016.
A game we all win: Dumping DRM can increase sales while reducing piracy
The standard line that Digital Rights Management (DRM) functions as a bulwark against online music piracy is being challenged by a trio of economists from Rice and Duke Universities. Their game theory research sides with a growing sentiment that DRM technologies which restrict music file copying and moving sometimes encourage illegal file sharing instead. "In many cases, DRM restrictions prevent legal users from doing something as normal as making backup copies of their music," contends one of the researchers , Dinah Vernik, assistant professor of marketing at Rice's Jones Graduate School of Business.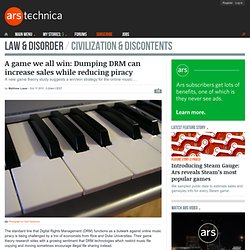 44.pdf (application/pdf Object)
A Look At The Gaming Industry, Gamer Motivation, And Social Media Marketing « Yu-Gi-Oh! Duel Pass ONLINE (An NoF Portal)
For those not interested in the business side of gaming, skip this.. But I will say this: we gamers RULE! I've been working on some projects lately with heavy social media and game mechanics involved. Thing is, the majority of online marketers, brands, and businessses still do not see the massive opportunity here. I think these numbers speak for themselves: [ Source: ESRB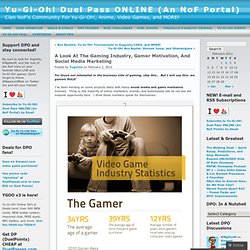 28 July 2011 Last updated at 20:12 ET Is that cyclops the same one you saw yesterday? The faces and behaviour of online avatars could help identify the people controlling them, scientists believe. Using both characteristics, researchers hope to develop techniques for checking whether the digital characters are who they claim to be. Such information could be used in situations where login details are not visible or for law enforcement. Impersonation of avatars is expected to become a growing problem as real life and cyberspace increasingly merge.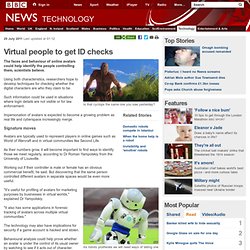 Virtual people to get ID checks
Tomb Raider 2 Trailer
Tomb Raider - E3 2011: Gameplay Demo
Players and Avatars: Against Identification
Dominic Arsenault Every once in a while comes a video game that claims - or is claimed - to 'revolutionize' its genre, to bring it beyond what it used to be, or to 'evolve' it, defining a new step along the generic road it is treading. [1] As a case in point, Aki Järvinen's (2002) review of Halo (Bungie Software 2001) boldly states that with this release, "the FPS is dead. Long live the new FPS!" With Halo , Järvinen says, came a new generation of First-Person Shooters; he even likens the game's arrival to a meteorite crashing on "Planet First-Person Shooter", causing the extinction of prior life ("Quakesauruses") and paving the way for, metaphorically, the rise of the next life-form. One could not ask for a better textbook statement for showing that the idea that genres 'evolve' akin to biological species is second nature to the discourse of most knowledgeable gamers, gaming press people, industry veterans and game studies academics.
Video Game Genre, Evolution and Innovation | Arsenault | Eludamos. Journal for Computer Game Culture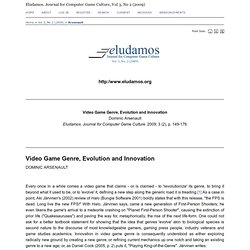 cgd-crawford.pdf (application/pdf Object)
In his 1958 book Les Jeux et Les Hommes (usually translated as Man, Play and Games ), the noted sociologist and intellectual Roger Caillois introduced a terminology for considering patterns in games. He used the term 'game' in a very wide manner, applying it to all play activities. This is a partial consequence of his native language, French, where the term 'jeux' and 'jouer' express the concepts of both play and game in English.
Only a Game: Roger Caillois' Patterns of Play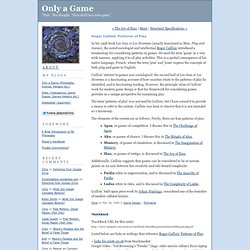 UXS2041 Video Game History
When I was a kid, I liked a game where you piloted a spaceship that shot aliens. You looked down on your spaceship while the alien spacecraft (and the stars in the background) flew past. Games like this are called side-scrollers since the background moves, but your character doesn't.
The Book of Scratch: How can I move the background?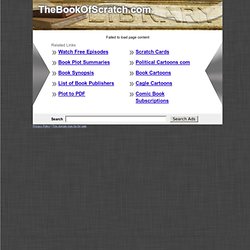 Video game history reaches back to games using early computers, and progresses forward into who knows what. A brief video game timeline:
History of Video Games. A Timeline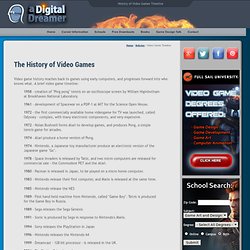 the videogame history timeline (beta)
April 25 A U.S. patent is issued to Ralph Baer for "A Television Gaming Apparatus and Method" May 24 Magnavox's Odyssey , the first home video game system , is showcased at a convention in Burlingame, CA, and is released to the public later that year. Bushnell and Dabney found Atari.
Video Games: Timeline
Google Image Result for http://1.bp.blogspot.com/_1sDImhbykvE/SwsUaF3HNAI/AAAAAAAAgQM/gsCfS9inVE4/s1600/History%2Bof%2BRole%2BPlaying%2BGames-_Graphic%2BImage%2BMap.jpg
David Perry's Game Industry Map 2.0
Richard Wilson of Tiga says the UK is suffering from a brain drain and lack of investment. Photograph: Tiga The British games industry is suffering a significant 'brain drain' as talented programmers and artists leave the country to work abroad, says trade association Tiga . The organisation has just revealed the results of a survey conducted with over three-quarters of the country's games businesses.
UK games industry faces brain drain and lack of investment, says Tiga | Technology
Chris Bateman is a philosopher, game designer and author, who has been funding his 'philosophy habit' by working in the digital games industry. He runs International Hobo, the leading creative consultancy in the field of market-oriented game design, narrative and player satisfaction services. Chris has worked in game design and writing for fifteen years, originally with tabletop role-playing games and boardgames, and later in digital entertainment after completing a Masters degree in Artificial Intelligence/Cognitive Science.
Chris Bateman
Ludology
If you recall the history of game definitions, you remember how Wittgenstein discounted the possibility that the things that we call "games" (or rather Spiele in German) have anything in common, and argued that they rather have family resemblances . Wittgenstein's argument is basically to say that naive people/philosophers assume that words have definite meanings, but that if we consider his range of examples, from board, to card, to ball games, to Ring a Ring o' Roses , it will be clear that the things we call games have nothing in common. My response to this has usually been to say that Ring a Ring o' Roses is not a game since it does not have quantifiable, variable outcomes to which the game assigns values (also discussed in Half-Real ), so that's that – Ring a Ring o' Roses is not a problem for the definition of games, since a game definition doesn't need to include Ring a Ring o' Roses in the first place.
The Ludologist
OLG Addiction (Hohenheim 2011).ppt
Richard Bartle [1] MUSE Ltd, Colchester, Essex. United Kingdom. richard@mud.co.uk Four approaches to playing MUDs are identified and described. These approaches may arise from the inter-relationship of two dimensions of playing style: action versus interaction, and world-oriented versus player-oriented. An account of the dynamics of player populations is given in terms of these dimensions, with particular attention to how to promote balance or equilibrium. This analysis also offers an explanation for the labelling of MUDs as being either "social" or "gamelike".
Personality Types and Importance in Gamification
and the ball was square... History of Video Games - The First Electronical Game Ever Made?
Spacewar! - Original 1962 code on PDP-1 emulator
An Introduction to Game Studies
Schedule
Video Game Addiction – A Real Problem? | Gamer Limit
The Game, the Player, the World: Looking for a Heart of Gameness