Organizations
Professional Publishers Association
independent publishers guild - Home
AOP UK: Helping Media Owners Build Better Digital Businesses | AOP UK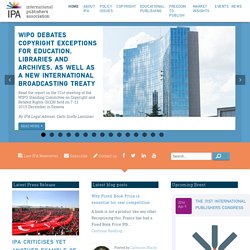 We can reveal two more short-listed nominees for the 2014 IPA Freedom to Publish Prize: Irina Balakhonova from Russia and Myay Hmone Lwin from Myanmar. Irina Balakhonova runs the Samokat publishing house, which since 2003 has published books for children and young adults, raising Russian readers' awareness of issues often considered sensitive or taboo. In 2013, amidst a climate of homophobia and the passing of a state law banning the promotion of homosexuality, she published "The Jester Cap" by Daria Wilke, a young-adult novel about a gay character's struggle to find acceptance.
International Publishers Association (IPA)
Publishers Association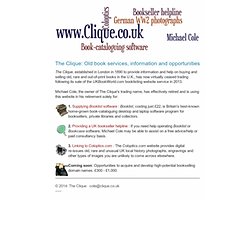 UK Book Info/The Clique: Information on buying and selling old and rare books in the UK
The Clique, established in London in 1890 to provide information and help on buying and selling old, rare and out-of-print books in the U.K., has now virtually ceased trading following its sale of the UKBookWorld.com booklisting website service in 2013. Michael Cole, the owner of The Clique's trading name, has effectively retired and is using this website in his retirement solely for: 1. Supplying Booklist software : Booklist, costing just £22, is Britain's best-known home-grown book-cataloguing desktop and laptop software program for booksellers, private libraries and collectors.
Random House Posts Record Profits www.guardian.co.uk Operating profits leapt 75% at Bertelsmann-owned publisher in 2012 as Fifty Shades trilogy sold more than 70m copies Renowned Nigerian Author Chinua Achebe Dies www.newsday.co.zw Nigeria's literary icon and publisher of several novels, Chinua Achebe, is dead BBC Worldwide Criticised For Sale Of Lonely Planet At 'Significant Loss' www.guardian.co.uk Travel guides sale to US billionaire Brad Kelley for £80m less than originally paid was not good business, says BBC Trust
booktrade.info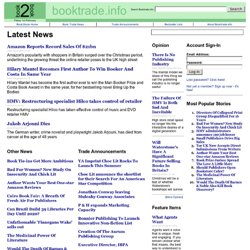 Book Industry Study Group
The Association of American Publishers
Massachusetts and Rhode Island Antiquarian Booksellers, Inc.