online articles
Get flash to fully experience Pearltrees
1. Point of Sale Experience The optimal Point of Sale experience has not yet been created.
Humanities and the social sciences have traditionally been disciplines aligned closely with the institutional library and its resources and services.
At next week's Tools of Change for Publishing conference, I am moderating a panel on the future of bookstores (Tuesday, 2/15, 1:40 pm, be there!).
Called "A publishing visionary" by The Huffington Post and Mashable, Kevin Smokler is the author of forthcoming essay collection "Practical Classics: 50 Reasons the Reread 50 Books you Haven't Touched Since High School" (Prometheus Books, Feb. 2013) and the editor of "Bookmark Now: Writing in Unreaderly Times," A San Francisco Chronicle Notable Book of 2005.
by Kirstin Butler Cutting out the middleman, or what the Nobel Peace Prize has to do with harnessing the potential of tablets. Depending on whom you ask, these are either the best or the worst of times for the written word. As with every other branch of traditional media, the Internet has pushed the publishing industry to a critical inflection point, something we've previously discussed . Disrupting the mainstream marketplaces for journalism, literature, and the fundamental conventions of reading and writing themselves, here are seven startups that promise to reshape the way we create and consume ideas.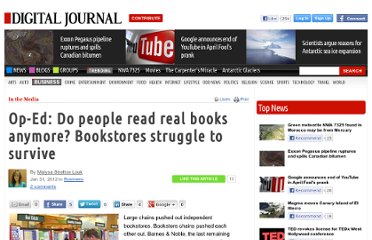 Large chains pushed out independent bookstores. Bookstore chains pushed each other out.