Literature Search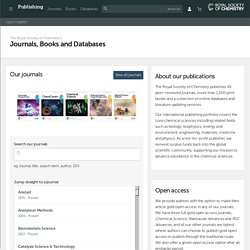 RSC Publishing Home
This platform provides access to journals, books and databases from RSC Publishing, linking over 1,150,867 chemical science articles and chapters. You can access the latest research of interest using the custom eAlerts, RSS feeds and blogs or you can explore content using the quick and advanced searches. Discover the highest quality integrated scientific research today - search faster, navigate smarter and connect more.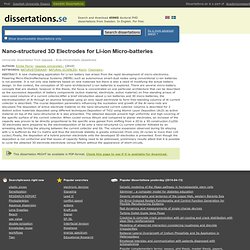 University dissertation from Uppsala : Acta Universitatis Upsaliensis Abstract: A new challenging application for Li-ion battery has arisen from the rapid development of micro-electronics. Powering Micro-ElectroMechanical Systems (MEMS) such as autonomous smart-dust nodes using conventional Li-ion batteries is not possible. It is not only new batteries based on new materials but there is also a need of modifying the actual battery design. In this context, the conception of 3D nano-architectured Li-ion batteries is explored.
Nano-structured 3D Electrodes for Li-ion Micro-batteries
Application of nanotextured carbons for electrochemical energy storage in aqueous medium François Béguin CRMD, CNRS-University, 1B rue de la Férollerie, 45071 Orléans Cedex 02, France This paper presents a hybrid capacitor, with two different electrodes working in their optimal potential range. The negative electrode is based on the reversible hydrogen sorption which occurs at low potential values in nanoporous carbons.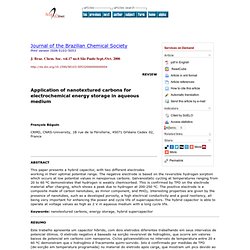 Journal of the Brazilian Chemical Society - Application of nanotextured carbons for electrochemical energy storage in aqueous medium
International Journal of Electrochemcal Science
The Electrochemical Society
ECS President Tetsuya Osaka recently wrote about Science and Technology on a Global Scale and Society's Role:"The 20th century was a time of advancement led by many discoveries and inventions that had their origin in the United States. At the beginning of the 21st century, the U.S. still led the world in science and technology growth. The advancement of the iPhone led by Steve Jobs involves a model for future innovations, and much can be learned from the achievements made in the United States. However, lately we have seen leadership emerging from many Asian countries in the technological sector. Significant developments in engineering and technology in Japan in the '80s (and even in the '90s), have been steadily supplanted by corresponding activity in newly-developing Asian countries such as Korea over the past ten years. "…[L]eadership in the areas of science and technology in the 21st century may be geographically divided into three regions: Asia, Europe, and the United States.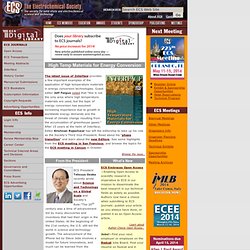 ScienceDirect - Home