Conductive Polymer
Electroactive polymers
(a) Cartoon drawing of an EAP gripping device. (b) A voltage is applied and the EAP fingers deform in order to surround the ball. (c) When the voltage is removed the EAP fingers return to their original shape and grip the ball.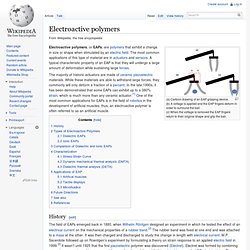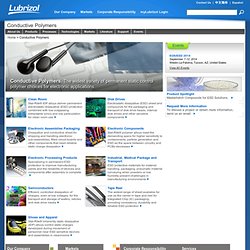 Conductive Polymers – The Lubrizol Corporation
Clean Room Stat-Rite® IDP alloys deliver permanent electrostatic dissipative (ESD) protection combined with low outgassing, extractable ionics and low particulation for clean room use
Stat-Rite® Masterbatch Compounds - Conductive Polymers - The Lubrizol Corporation
Stat-Rite® Inherently Static Dissipative Masterbatch Compounds allow manufacturers the flexibility to incorporate static dissipative properties into their own materials and compounds, utilizing the cost saving benefits of combining application volumes on their base resin purchases.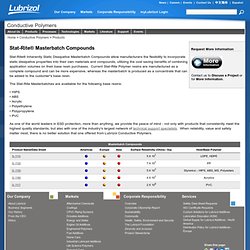 Polythiophene
The monomer repeat unit of unsubstituted polythiophene. Polythiophenes demonstrate interesting optical properties resulting from their conjugated backbone, as demonstrated by the fluorescence of a substituted polythiophene solution under UV irradiation.