C++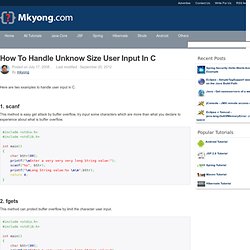 Here are two examples to handle user input in C. 1. scanf This method is easy get attack by buffer overflow, try input some characters which are more than what you declare to experience about what is buffer overflow. 2. fgets This method can protect buffer overflow by limit the character user input. However, above two methods only can handle normal user input, how about i want to handle user input with 1000 or even more characters ?
How to handle unknow size user input in C
How To: C / C++ Main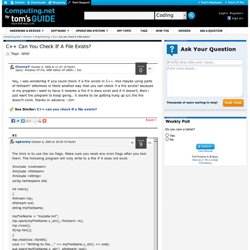 C++ can you check if a file exists?
ok, well i added that part of the code into mine and if the file exists, it sets a variable to 1, if not it sets it to 0. the compiler has no problem with that, but i want to accept strings of text for group names and items on the list but for some reason, this code is being retarded. maybe someone can help me with it.. ok, this code works: #include <string> #include <iostream> #include <fstream> using namespace std; that will take a string of text, write it to a file and then open the file with the string that you've typed in notepad. but for some reason when i try to integrate that into my code, i get an error from the compiler.. [linker error] undefined reference to group(). but heres my code: so.. help?
This variable is set by major modes, as a buffer-local variable, to specify how to fontify text in that mode. The value should look like this: The first element, , indirectly specifies the value of font-lock-keywords . It can be a symbol, a variable whose value is the list to use for font-lock-keywords . It can also be a list of several such symbols, one for each possible level of fontification.
GNU Emacs Lisp Reference Manual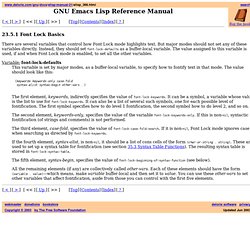 To whom is this tutorial directed? This tutorial is for those people who want to learn programming in C++ and do not necessarily have any previous knowledge of other programming languages. Of course any knowledge of other programming languages or any general computer skill can be useful to better understand this tutorial, although it is not essential. It is also suitable for those who need a little update on the new features the language has acquired from the latest standards. If you are familiar with the C language, you can take the first three parts of this tutorial as a review of concepts, since they mainly explain the C part of C++.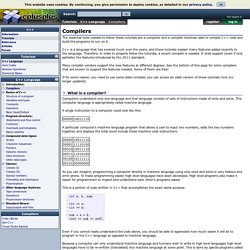 cPlusPlus