Plugin
Upload
Height. JqPuzzle – Customizable Sliding Puzzles with jQuery. JqPuzzle lets you easily create sliding puzzles for your web page.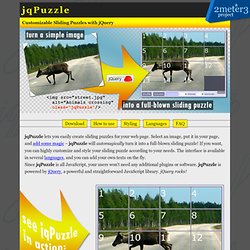 Select an image, put it in your page, and add some magic – jqPuzzle will automagically turn it into a full-blown sliding puzzle! If you want, you can highly customize and style your sliding puzzle according to your needs. The interface is available in several languages, and you can add your own texts on the fly. Bgiframe 2.1 docs. Com.overset.dev» Blog Archive » Multiday Calendar Datepicker J. ColorPicker - jQuery plugin. About A simple component to select color in the same way you select color in Adobe Photoshop Last update 23.05.2009 - Check Download tab Features Flat mode - as element in page Powerful controls for color selection Easy to customize the look by changing some images Fits into the viewport.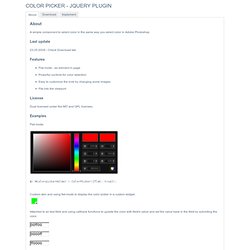 The Complete Guide for You to Become an Almighty jQuery Develope. 15 Resources To Get You Started With jQuery From Scratch - NETTU.
---