Drawing
Ux.artu.tv » Blog Archive » New Video Series: UI Design for D. Hello!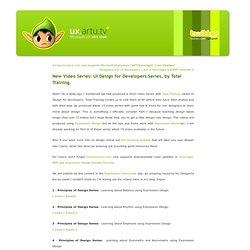 Ok a while ago I mentioned we had produced a short video series with Total Training called UI Design for Developers. Total Training invited us to visit them at NY where they have their studios and with their help we produced these 13 video series with quick tips & tricks for non designers to learn more about design. This is something I officially consider Part I because teaching design takes longer than just 13 videos but I hope these help you to get a little deeper into design.
The videos are produced using Expression Design but all the tips and tricks work with Expression Blend too. I am already working on Part II of these series which I'll make available in the future. Drawter.com - DrawAble Markup Language. Website Performance | CSS Sprite Generator. Design Comics :: Characters and Scenes for Storyboarding & D.
Design Comics / Examples Above is a thumbnail version of a design comic storyboard, Sugar Plum Nightmare in D Minor: Mary Goes to the Nutcracker.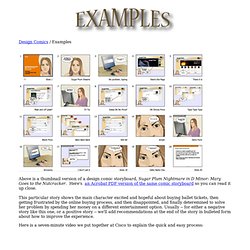 Here's an Acrobat PDF version of the same comic storyboard so you can read it up close. This particular story shows the main character excited and hopeful about buying ballet tickets, then getting frustrated by the online buying process, and then disappointed, and finally deteremined to solve her problem by spending her money on a different entertainment option.
---