Thinkers & Theories
Sir Karl Raimund Popper, CH FRS[3] FBA (28 July 1902 – 17 September 1994) was an Austro-British[4] philosopher and professor at the London School of Economics.[5] He is generally regarded as one of the greatest philosophers of science of the 20th century.[6][7] Popper is known for his rejection of the classical inductivist views on the scientific method, in favour of empirical falsification: A theory in the empirical sciences can never be proven, but it can be falsified, meaning that it can and should be scrutinized by decisive experiments. If the outcome of an experiment contradicts the theory, one should refrain from ad hoc maneuvers that evade the contradiction merely by making it less falsifiable.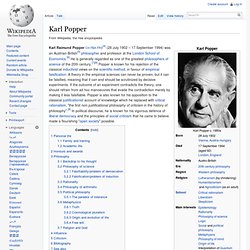 Filosofia e Vocação para Educadores - Caderno de Cultura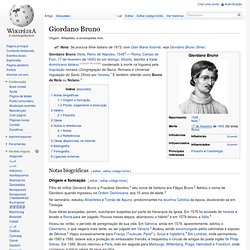 Giordano Bruno
Origem: Wikipédia, a enciclopédia livre.
Giordano Bruno e a Física Quântica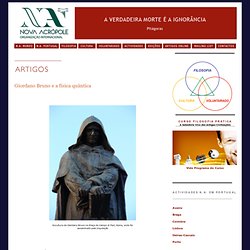 Giordano Bruno e a física quântica O professor universitário Franz Moser apresentou este artigo por ocasião da exposição itinerante realizada pela Nova Acrópole austríaca, sobre a vida e obra de Giordano Bruno, no quadro da abertura da Universidade de Graz, a 13 de Março de 1990.
Giordano Bruno
Artigo Pág. 5 Giordano Bruno: O homem, o mundo e o Renascimento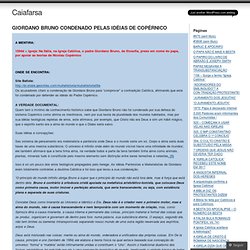 A MENTIRA:.1594d > Igreja: Na Itália, na Igreja Católica, o padre Giordano Bruno, de filosofia, preso em nome do papa, por apoiar as teorias de Nicolau Copérnico Site Batista:http://br.share.geocities.com/muitahistoria/muitahistoria05e Os acusadores citam a condenação de Giordano Bruno para "comprovar" a contradição Católica, afirmando que este foi condenado por defender as idéias do Padre Copérnico..A VERDADE DOCUMENTAL: Quem tem o mínimo de conhecimento histórico sabe que Giordano Bruno não foi condenado por sua defesa do sistema Copérnico como afirma os mentirosos, nem por sua teoria da pluralidade dos mundos habitados, mas por sua idéias teológicas repletas de erros, este afirmava, por exemplo, que Cristo não era Deus e sim um hábil mágico, que o espírito santo era a alma do mundo e que o Diabo seria salvo.
GIORDANO BRUNO CONDENADO PELAS IDÉIAS DE COPÉRNICO « Caiafarsa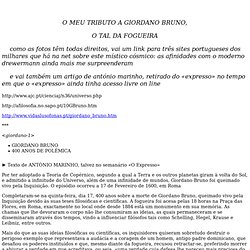 ► Texto de ANTÓNIO MARINHO, talvez no semanário «O Expresso»
giordano