Thinkers & Theories
Sir Karl Raimund Popper , CH FRS [ 3 ] FBA (28 July 1902 – 17 September 1994) was an Austro-British [ 4 ] philosopher and professor at the London School of Economics . [ 5 ] He is generally regarded as one of the greatest philosophers of science of the 20th century. [ 6 ] [ 7 ] He also wrote extensively on social and political philosophy. In 1992 he was awarded the Kyoto Prize in Arts and Philosophy for "symbolising the open spirit of the 20th century" [ 8 ] and for his "enormous influence on the formation of the modern intellectual climate". [ 8 ] Popper is known for his attempt to repudiate the classical observationalist/ inductivist form of scientific method in favour of empirical falsification .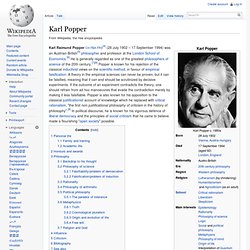 Filosofia e Vocação para Educadores - Caderno de Cultura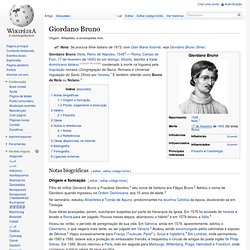 Giordano Bruno
Origem: Wikipédia, a enciclopédia livre.
Giordano Bruno e a Física Quântica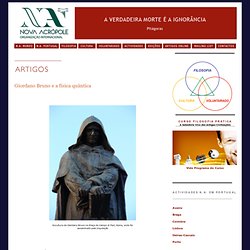 Giordano Bruno e a física quântica O professor universitário Franz Moser apresentou este artigo por ocasião da exposição itinerante realizada pela Nova Acrópole austríaca, sobre a vida e obra de Giordano Bruno, no quadro da abertura da Universidade de Graz, a 13 de Março de 1990.
Giordano Bruno
A rtigo Pág. 5 Giordano Bruno: O homem, o mundo e o Renascimento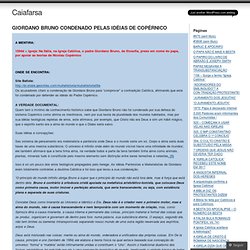 A MENTIRA: . 1594d > Igreja: Na Itália, na Igreja Católica, o padre Giordano Bruno, de filosofia, preso em nome do papa, por apoiar as teorias de Nicolau Copérnico Site Batista: http://br.share.geocities.com/muitahistoria/muitahistoria05e Os acusadores citam a condenação de Giordano Bruno para "comprovar" a contradição Católica, afirmando que este foi condenado por defender as idéias do Padre Copérnico. .
GIORDANO BRUNO CONDENADO PELAS IDÉIAS DE COPÉRNICO « Caiafarsa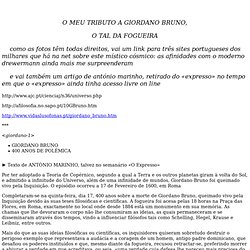 como as fotos têm todas direitos, vai um link para três sites portugueses dos milhares que há na net sobre este místico cósmico: as afinidades com o moderno drewermann ainda mais me surpreenderam
giordano