Timecult and Useful tips
My name is Jonathan Margolin, and I am a senior researcher in the Education Program at American Institutes for Research, where I work primarily in the State and Local Evaluation Center.
A Tip-a-Day by and for Evaluators - AEA365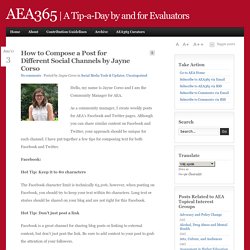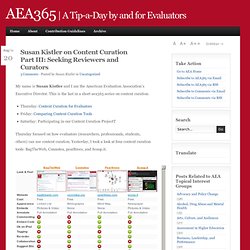 aea365 Content Curation
My name is Susan Kistler and I am the American Evaluation Association's Executive Director. This is the last in a short aea365 series on content curation. Thursday focused on how evaluators (researchers, professionals, students, others) can use content curation. Yesterday, I took a look at four content curation tools: BagTheWeb, Connotea, pearltrees, and Scoop.it. Today, I'm hoping that others might be interested in expanding on this project. Hot Tip: Want to get involved?
RescueTime Lite
aea365 RescueTime
My name is John Paul Manning and I'm an independent data analyst, which means I spend a lot of time working on my computer and it also means that I'm always struggling with fair billing. I'm contributing a favorite tool to shortcuts week because for me it has been a faster, easier, way to do project time tracking (and to stay on task). Rad Resource – RescueTime (http://www.rescuetime.com/): RescueTime is a SAAS (software as a service) program that runs in the background on your computer and tracks what application or what internet site you are actively engaged with at any given time.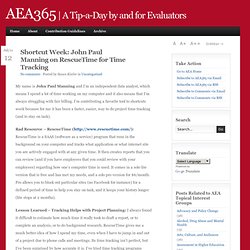 TimeCult
Inspiration Lab