Social media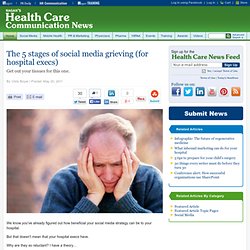 We know you've already figured out how beneficial your social media strategy can be to your hospital. But that doesn't mean that your hospital execs have. Why are they so reluctant? I have a theory… In Elisabeth Kübler-Ross' book, On Death and Dying , she says people go through five stages, when it comes to grief and tragedy.
The 5 stages of social media grieving (for hospital execs)
Yup! I've been thinking of blogging about the movie on Mark Zuckerberg and his journey to the first 1000,000 friends, ever since I saw the movie. A "MUST" watch cult movie, for sure! However, I was not so impressed by the Hollywood allegory and dramatization. I liked the warm, fuzzy promo film about Steve Case' AOL – "You got mail" a whole load better. The Social Network, based on vignettes from Zuck's story focuses on his notoriety, stole the idea, screwed his best pal, short sold his mentor, rather than the key lessons that you can and should take out of life if you want to build successes such as Zuckerberg's Social Network.
7 Social Networking Secrets Revealed by Mark Zuckerberg | Smedio | The New...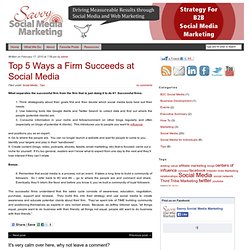 What separates the successful firm from the firm that is just doing it to do it? Successful firms: 1. Think strategically about their goals first and then decide which social media tools best suit their needs. 2.
Top 5 Ways a Firm Succeeds at Social Media | Savvy Social Media Marketing
I was going to write something completely different than what turned up below but somehow this article emerged. Over the last 12 months I have come up against a lot of reasons and excuses to not use "Social Media", "New Media", Digital Marketing" or embrace the " New Rules of Marketing ". It certainly doesn't mean that you have to discard what is currently working in your marketing program and it doesn't mean throwing the baby out with the bathwater. This list is a bit of a "Tongue in Cheek" look at why the CEO still wants to use the Yellow Pages and not embrace the " New Marketing " of the 21st century.
http://www.jeffbullas.com/2010/01/11/40-reasons-why-the-ceo-still-uses-the-yellow-pages-and-not-social-media/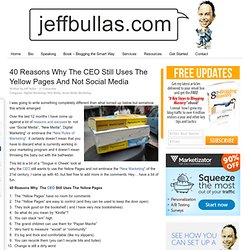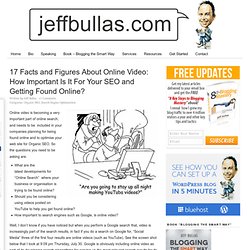 http://www.jeffbullas.com/2009/07/30/17-facts-and-figures-about-online-video-how-important-is-it-for-your-seo-and-getting-found-online/
Online video is becoming a very important part of online search, and needs to be included in your companies planning for being found online and to optimise your web site for Organic SEO. So the questions you need to be asking are. What are the latest developments for "Online Search" where your business or organisation is trying to be found online? Should you be considering using videos posted on YouTube to help you get found online?
http://www.jeffbullas.com/2009/07/14/can-your-customers-find-you-5-tips-to-help-your-seo/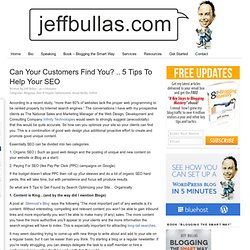 According to a recent study, "more than 60% of websites lack the proper web programming to be ranked properly by Internet search engines." The conversations I have with my prospective clients as The National Sales and Marketing Manager of the Web Design, Development and Consulting Company Infinity Technologies would seem to strongly suggest (anecodotally) that this would be quite accurate. So how can you optimize your site so your clients can find you. This is a combination of good web design plus additional proactive effort to create and promote good unique content.
Libraries and Archiving – with the use of Crowdsourcing « Getting Results from Crowdsourcing
I came across a very interesting article written by Fiona Sullivan titled Crowdsourcing for Libraries and Archives on the Archives Outside Blog . Fiona's article shares with us some really useful tips for outsourcing your archive projects, pointing to 7 really interesting facts and insights into using crowdsourcing, with 3 of them being in the field of libraries and archives.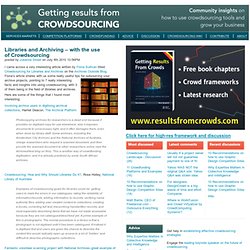 Study: Edelman No. 1 among large firms for social media sharing
The 2011 State of Community Management Report: Best Practices from Practitioners
Study: Companies Missing Opportunity To Utilize Social Media
Human ingenuity and technology have evolved into a symbiotic relationship, resulting in perpetual advancement and co-dependency. And this statement holds true with the growing ubiquity of the Internet and the explosion of social media today. The advent of readily available access to the Internet through cell phones, wireless Internet locations, and high speed Internet has allowed for the development of Internet devices that have now seemed to integrate themselves seamlessly into our lives.
So, What's Social Media?
How do you raise awareness about a cause you believe in with no money and no help, while on the brink of homelessness? Mark Horvath is doing it with Invisiblepeople.tv . Once homeless himself, and facing homelessness again after losing his job, Mark decided it was time America really looked at the people who are homeless in this country. Invisiblepeople.tv was born.
How Mark Horvath Is Using Social Media To Change America | SMC Seattle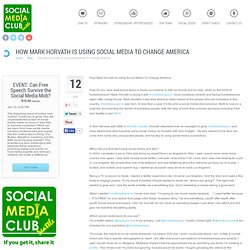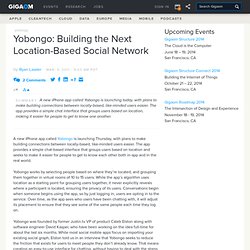 A new iPhone app called Yobongo is launching Thursday, with plans to make building connections between locally-based, like-minded users easier. The app provides a simple chat-based interface that groups users based on location and seeks to make it easier for people to get to know each other both in-app and in the real world. Yobongo works by selecting people based on where they're located, and grouping them together in virtual rooms of 10 to 15 users. While the app's algorithm uses location as a starting point for grouping users together, it never explicitly reveals where a participant is located, ensuring the privacy of its users.
Yobongo: Building the Next Location-Based Social Network: Tech News and Analysis «
BBC Social Media Editor @AlexGubbay talks about the importance of social media to the BBC ... - Property Tribes
7 Annoying Social Media Personality Disorders | Pushing Social
http://www.jeffbullas.com/2009/08/08/28-reasons-why-the-ceo-is-afraid-of-social-media/
I talk everyday to clients who want a new website and want to be found online, but the word Social Media doesn't even enter the conversation and isn't included in the initial brief. They do know what Social Media is, but they have all these reasons and excuses about why they shouldn't be integrating it into their company website and include it in their marketing strategy. So here are 28 reasons some companies aren't using Social Media.
Social Media
Featured Blog I just called to say... yapraymond wrote 8 minutes ago : When I was a young boy, my long car trips with my parents would often be filled with this song. It w … more → Tags: church , Culture , Friendships , Life , Psychology , 80's music , Childhood , Connecting , facebook The Digest: Fresh News About the Music Business - March 30, 2013
Business world not ready for millennials
I've spent a lot of time on the road with clients lately. Among the topics we discussed, managing the changes associated with the current generational transition was the hottest. The conversations focused mainly on the differences in consumer behaviours between younger and older buyers, and in work and career orientation between millennials and those in senior management. I think the topic is not only fascinating from a human behaviour perspective, it's also an important discussion for every management team in the country that's looking outward at customers and inward at employees.
By JESSICA E. VASCELLARO When Katie Miller went to Las Vegas this Thanksgiving, she tweeted about the lavish buffets and posted pictures of her seats at the aquatic spectacle "Le Rêve" at the Wynn Las Vegas hotel. A week later, the 25-year-old account executive at a public-relations firm got an email inviting her to a swanky holiday party on Manhattan's West Side. "At first I was confused," Ms.
Wannabe Cool Kids Aim to Game the Web's New Social Scorekeepers
The State of Social Media for Businesses in 2010 as We Head into 2011 | Smedio | The New Media and Social Web Guide for Business and Marketers
Jennifer Aniston Smart Water Ad Lampoons Up Viral Memes [VIDEO]
The value in jumping off the "social media train"
4 ways I censor myself in social media circles
Get More Bait in the Water | Blogging and Content Creation
Social networking – deny or allow?
Social Media Directory for Devon
Putting a Face on New Media Journalists | BNET
Getting value from social media | Society | Browse by subject area | Opinion, News, Analysis | BCS - The Chartered Institute for IT
7 Social Networking Secrets Revealed by Mark Zuckerberg | Smedio | The New...
Entrepreneur Feedback
Secret Lives of Tiny People
999 Social Media — Emergency services news