STUMBLE UPON TREE
iTools - use the best tools. 88560.jpg from 35photo.ru. Things People Said: Courtroom Quotations - StumbleUpon. The following quotations are taken from official court records across the nation, showing how funny and embarrassing it is that recorders operate at all times in courts of law, so that even the slightest inadvertence is preserved for posterity.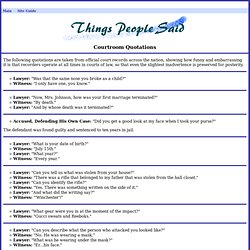 Lawyer: "Was that the same nose you broke as a child? "Witness: "I only have one, you know. " Lawyer: "Now, Mrs. Johnson, how was your first marriage terminated? "Witness: "By death. " Lake-anna-quarter.jpg from greengirl.org. History of Dance articles, origons of dance. A brief dance history of ballroom, breakdance, country, fad, flamenco, hiphop, jazz and Latin dance, salsa, swing, tango and western.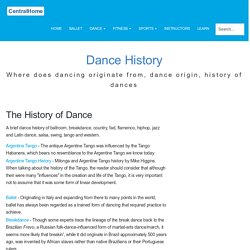 Argentine Tango - history of Argentine Tango and Milonga.Argentine Tango History - Milonga and Argentine Tango history by Mike HigginsBallet History - Into a fantasy world: A history of ballet (offsite: CBC)Breakdance - traces the origins of break dance.Cha Cha - history of cha cha.Clogging - clog dancing or clogging, as it is sometimes known, takes its origins from square dancing.
---