Software
Home. Free mind mapping and knowledge management software Download Freeplane now!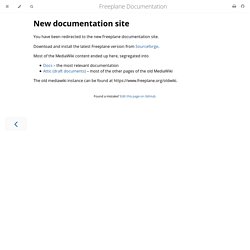 (this downloads the stable version 1.2.23) Read about the features coming next, Download last development versions (beta or preview) Try it and give your opinion. Aptana. Modelio Open Source Community. Papyrus UML - Welcome to Papyrus UML web site. The Protégé Ontology Editor and Knowledge Acquisition System.
The R Project for Statistical Computing. Home. Eclipse - The Eclipse Foundation open source community website. Welcome to NetBeans. Git - Fast Version Control System. Git Client - SmartGit. OpenProj Open Source Project Management Software — Serena Software. OpenProj is a free and powerful open source desktop alternative to Microsoft Project.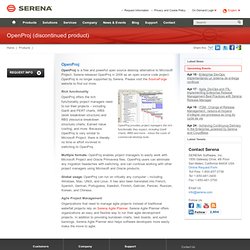 Serena released OpenProj in 2008 as an open source code project. OpenProj is no longer supported by Serena. Please visit the SourceForge website to find out more. OpenProj provides project managers the rich functionality they expect, including Gantt charts, WBS and more - minus the costs of commercial desktop tools. Rich functionality. LyX | LyX – The Document Processor.
Zotero | Home. RapidMiner. KNIME | Konstanz Information Miner. Gephi, an open source graph visualization and manipulation software. Cytoscape: An Open Source Platform for Complex Network Analysis and Visualization. Network Workbench | Welcome. Compendium Download.
Visual Understanding Environment. XMind - Mind Mapping and Storming. Free reference manager and PDF organizer.
---