Web
Ecrire plus gros rend les émotions plus intenses. Accueil Gizmodo Buzz Ecrire plus gros rend les émotions plus intenses Les scientifiques ont démontré que nous sommes sensibles à la taille des caractères d'imprimerie.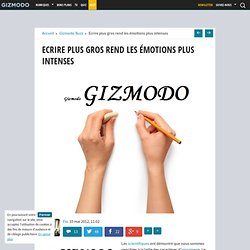 Le corrélation est donc prouvée, une plus grande police suscite une réaction émotionnelle plus intense.
Tim Berners-Lee promeut le HTML5 et s'oppose à l'ACTA. Lors de la conférence mondiale du World Wide Web qui s'est tenue pour la première fois en France, à Lyon, du 16 au 20 avril, Tim Berners-Lee, 56 ans, inventeur du web en 1989 lors de ses recherches au CERN*, n'a pas ménagé ses efforts pour réaffirmer haut et fort les bienfaits des standards ouverts, de l'interopérabilité et d'une navigation éclairée.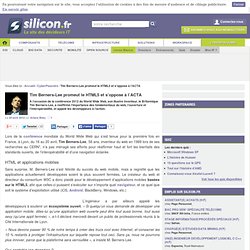 HTML et applications mobiles Sans surprise, M. Berners-Lee s'est félicité du succès du web mobile, mais a regretté que les applications actuellement développées soient le plus souvent fermées. Twitter Wanted to Buy Instagram, But Facebook Beat it to it. Facebook may have secured the $1 billion acquisition of Instagram last week but it appears it wasn't the only social network that was interested in the service, with a recent New York Times report suggesting that Twitter was also in the running.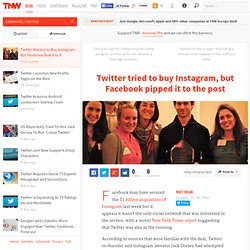 According to sources that were familiar with the deal, Twitter co-founder and Instagram investor Jack Dorsey had attempted to secure the purchase of the photo-sharing service in the months before the Facebook deal, but ultimately failed. The NYT writes: Mr. Systrom may have lost one connection in the deal: Mr. Dorsey of Twitter. Instagram's Buyout: No Bubble to See Here | Epicenter.
Instagram's billion-dollar sale to Facebook raised eyebrows Monday, renewing cries of a new tech bubble.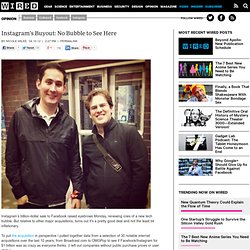 But relative to other major acquisitions, turns out it's a pretty good deal and not the least bit inflationary. To put the acquisition in perspective I pulled together data from a selection of 30 notable internet acquisitions over the last 10 years, from Broadcast.com to OMGPop to see if Facebook/Instagram for $1 billion was as crazy as everyone thinks. (I left out companies without public purchase prices or user stats.) The spreadsheet below captures the acquisition date, dollar amounts, and ballpark counts of the users and employees at the time of acquisition.
Google. Numérique - Note de lecture - Qu'est-ce que la culture fan ? 31% du trafic sur nos sites est bon à jeter à la poubelle. 31% du trafic sur nos sites est bon à jeter à la poubelle La société Incapsula vient de publier un rapport qui vaut ce qu'il vaut puisqu'il se base uniquement sur le trafic de 1 000 sites différents et qui dit que 31% du trafic reçu par un site web est automatisé et destiné à répandre la désolation et la misère sur le monde.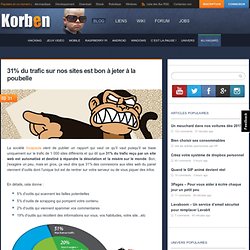 Bon, j'exagère un peu, mais en gros, ça veut dire que 31% des connexions aux sites web du panel viennent d'outils dont l'unique but est de rentrer sur votre serveur ou de vous piquer des infos. Cover Your Fridge with Instagram Pics | Gadget Lab. Create magnetic sheets of your Instagram photos.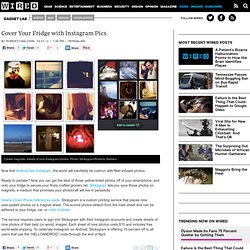 Photo: Stickygram/Roberto Baldwin Now that Android has Instagram, the world will inevitably be overrun with filter-infused photos.
VLC saisit Hadopi pour obtenir le droit de lire les Blu-Ray sous DRM. Haro sur les DRM !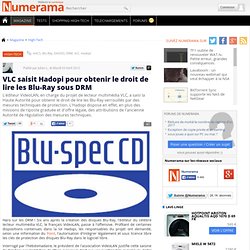 Six ans après la création des disques Blu-Ray, l'éditeur du célèbre lecteur multimédia VLC, le français VideoLAN, passe à l'offensive. Profitant de certaines dispositions contenues dans la loi Hadopi, les responsables du projet ont demandé, selon une information du Point, l'autorisation d'intégrer légalement et sous licence libre les clés de protection des disques Blu-Ray dans le logiciel libre. Interrogé par l'hebdomadaire, le président de l'association VideoLAN justifie cette saisine de l'Hadopi par l'ambition de "faire avancer le droit sur une question très compliquée. How Minimal Can a Minimalist App Get? Try Pop. Minimalist apps are all the rage right now.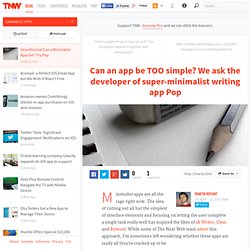 The idea of cutting out all but the simplest of interface elements and focusing on letting the user complete a single task really well has inspired the likes of iA Writer, Clear and Byword. While some of The Next Web team adore this approach, I'm sometimes left wondering whether these apps are really all they're cracked up to be. This was particularly highlighted when I was recently pitched Pop, a notepad app for iOS that takes simplicity to its extreme by having no features at all.
Et si on enseignait vraiment le numérique ? Le Monde.fr | | Par Olivier Ertzscheid, maître de conférences à l'université de Nantes.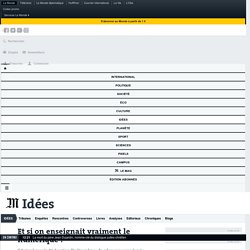 Ils sont nés en 1996. Ils ont aujourd'hui 16 ans.
---