SocialMedia
Referring Domains Report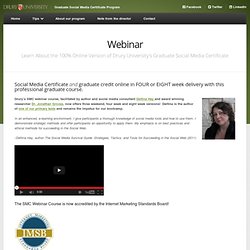 Social Media Certificate and graduate credit online in FOUR or EIGHT week delivery with this professional graduate course.
Drury University Online Social Media Certificate | Social Media Certificate
by Oliver Reichenstein Promising to make you look wired and magically promote your content in social networks, the Like, Retweet, and +1 buttons occupy a good spot on pretty much every page of the World Wide Web. Because of this, almost every major site and world brand is providing free advertising for Twitter and Facebook.
Sweep the Sleaze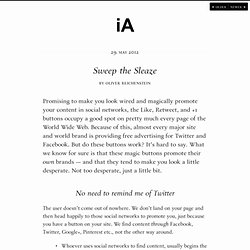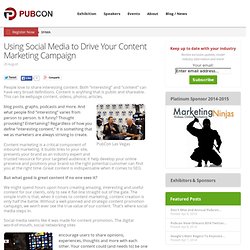 Using Social Media to Drive Your Content Marketing Campaign
Using Social Media to Drive Your Content Marketing Campaign
Analytics » Social analytics
Assessing the ROI on Your Social Media Efforts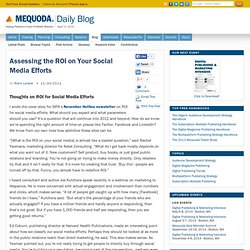 By Ronn Levine • 11/30/2011
paper0778-burke.pdf (application/pdf Object)
HOW TO: Add Social Sharing Buttons to Your Website
This is a simple plugin to allow you to toggle an element between position: absolute and position: fixed based on the window scroll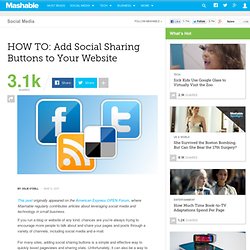 Social-The-Next-Search.pdf (application/pdf Object)
Social Plugins | Gigya
Do social sharing icons make users more likely to share online content
You've started a Facebook page for your publication.
A social media wish list for news publishers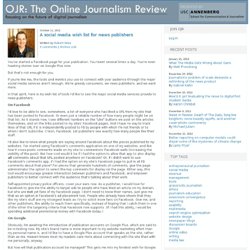 Facebook: a Harvard-only social networking site gone global with more than 750 million active users to date. Twitter: what was once envisioned to be a podcasting platform that now boasts over 360 million tweeters. The social media tools we use daily have highly evolved since their heydays and have garnered our undivided attention. How people digest news and information is changing. Take Hurricane Irene, for example. Her wrath was felt more in the Twitterverse than it was on our actual universe.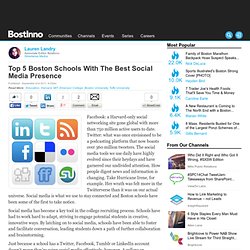 Top 5 Boston Schools With The Best Social Media Presence | Bostinnovation: Boston Start-ups, Innovation and News Blog
Public Relations Matters
Digital Era Leadership: The Role of Business Schools - Social Media in Organizations (SMinOrgs) Community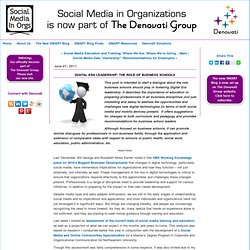 This post is intended to start a dialogue about the role business schools should play in fostering Digital Era leadership. It describes the importance of education in preparing professionals in all business disciplines (not just marketing and sales) to address the opportunities and challenges new digital technologies (in terms of both social media and mobile devices) present.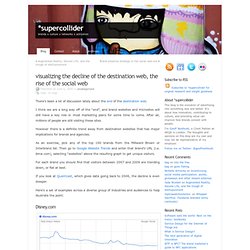 There's been a lot of discussion lately about the end of the destination web.
visualizing the decline of the destination web, the rise of the social web » *supercollider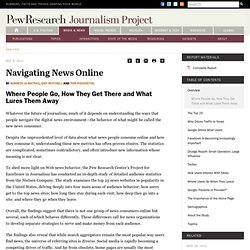 Navigating News Online
Whatever the future of journalism, much of it depends on understanding the ways that people navigate the digital news environment—the behavior of what might be called the new news consumer. Despite the unprecedented level of data about what news people consume online and how they consume it, understanding these new metrics has often proven elusive. The statistics are complicated, sometimes contradictory, and often introduce new information whose meaning is not clear. To shed more light on Web news behavior, the Pew Research Center's Project for Excellence in Journalism has conducted an in-depth study of detailed audience statistics from the Nielsen Company. The study examines the top 25 news websites in popularity in the United States, delving deeply into four main areas of audience behavior: how users get to the top news sites; how long they stay during each visit; how deep they go into a site; and where they go when they leave.
The End of the Destination Web and the Revival of the Information Economy Brian Solis
inShare639
Twitter Chat Schedule
SurveyGizmo now integrates with Facebook!
Facebook Application | SurveyGizmo - Online Survey Software : An Online Survey Tool for Creating Surveys, Polls, Forms and Quizes