CHE articles
Academics and Social Media: #mla09 and Twitter. Recently (27-30 December 2009, in fact) the annual convention of the Modern Language Association took place in Philadelphia.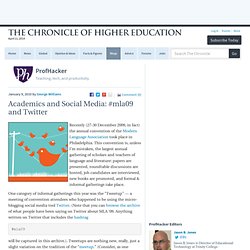 This convention is, unless I'm mistaken, the largest annual gathering of scholars and teachers of language and literature: papers are presented, roundtable discussions are hosted, job candidates are interviewed, new books are promoted, and formal & informal gatherings take place. One category of informal gatherings this year was the "Tweetup" — a meeting of convention attendees who happened to be using the micro-blogging social media tool Twitter. (Note that you can browse the archive of what people have been saying on Twitter about MLA '09. Anything written on Twitter that includes the hashtag. How Do I Create a Professional Network? - Manage Your Career. By Julie Miller Vick and Jennifer S.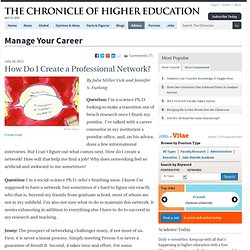 Furlong Question: I'm a science Ph.D. looking to make a transition out of bench research once I finish my postdoc. I've talked with a career counselor in my institution's postdoc office, and, on his advice, done a few informational interviews. But I can't figure out what comes next. Academics and social media: ymmv. Recently, someone asked Dean Dad what kind of impact the use of various social media tools might have on one's academic career.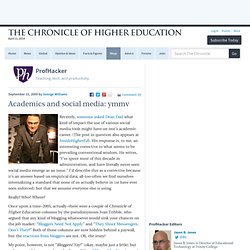 (The post in question also appears at InsideHigherEd). His response is, to me, an interesting corrective to what seems to be prevailing conventional wisdom. He writes, "I've spent most of this decade in administration, and have literally never seen social media emerge as an issue." I'd describe this as a corrective because it's an answer based on empirical data; all-too-often we find ourselves internalizing a standard that none of us actually believe in (or have ever seen enforced) but that we assume everyone else is using.
Really? My Daily Read: Marc Lynch - PageView. Marc Lynch is an associate professor of political science and international affairs at George Washington University.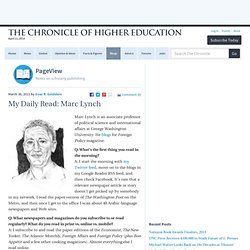 He blogs for Foreign Policy magazine. Q: What's the first thing you read in the morning? A: I start the morning with my Twitter feed, move on to the blogs in my Google Reader RSS feed, and then check Facebook. It's rare that a relevant newspaper article or story doesn't get picked up by somebody in my network. On Hiring. In a number of conversations in several states this summer, I have found a common thread in debriefings about hiring: the use of digital footprints to profile job candidates.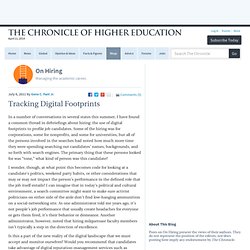 Some of the hiring was for corporations, some for nonprofits, and some for universities, but all of the persons involved in the searches had noted how much more time they were spending searching out candidates' names, backgrounds, and so forth with search engines. The primary thing that these persons looked for was "tone," what kind of person was this candidate? I wonder, though, at what point this becomes code for looking at a candidate's politics, weekend party habits, or other considerations that may or may not impact the person's performance in the defined role that the job itself entails? I can imagine that in today's political and cultural environment, a search committee might want to make sure activist politicians on either side of the aisle don't find low-hanging ammunition on a social-networking site.
ProfHacker. After Amy recently wrote about how social media led her to Prof.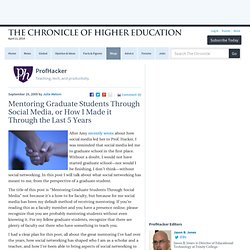 Hacker, I was reminded that social media led me to graduate school in the first place. Without a doubt, I would not have started graduate school—nor would I be finishing, I don't think—without social networking. In this post I will talk about what social networking has meant to me, from the perspective of a graduate student. The title of this post is "Mentoring Graduate Students Through Social Media" not because it's a how-to for faculty, but because for me social media has been my default method of receiving mentoring. If you're reading this as a faculty member and you have a presence online, please recognize that you are probably mentoring students without even knowing it.
---