Career hub
On Hiring. In my most recent post, I asked how the public airing of departmental or institutional turmoil might influence a prospective candidate's actions.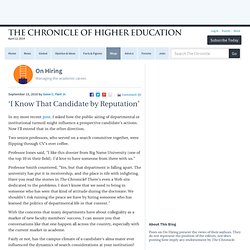 Now I'll extend that in the other direction. Two senior professors, who served on a search committee together, were flipping through CV's over coffee. Professor Jones said, "I like this dossier from Big Name University (one of the top 10 in their field). I'd love to have someone from there with us." Professor Smith countered, "Yes, but that department is falling apart. Is There a Perfect Personality for Expatriates? - Advice. By Rudolph Young An overseas academic job may sound romantic, but once reality sets in, it can be a daunting experience.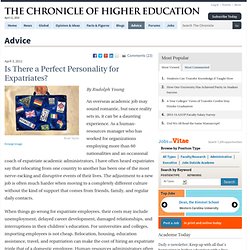 As a human-resources manager who has worked for organizations employing more than 60 nationalities and an occasional coach of expatriate academic administrators, I have often heard expatriates say that relocating from one country to another has been one of the most nerve-racking and disruptive events of their lives. The adjustment to a new job is often much harder when moving to a completely different culture without the kind of support that comes from friends, family, and regular daily contacts.
When things go wrong for expatriate employees, their costs may include unemployment, delayed career development, damaged relationships, and interruptions in their children's education. For universities and colleges, importing employees is not cheap.
TrendsHigherEdEmployment
Personal branding. Using Social Media to Network, or How I Got to be Part of Team ProfHacker. Last week, George wrote a post about academics and social media.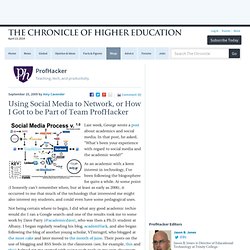 In that post, he asked, "What's been your experience with regard to social media and the academic world?" As an academic with a keen interest in technology, I've been following the blogosphere for quite a while. At some point (I honestly can't remember when, but at least as early as 2006), it occurred to me that much of the technology that interested me might also interest my students, and could even have some pedagogical uses.
Not being certain where to begin, I did what any good academic techie would do: I ran a Google search–and one of the results took me to some work by Dave Parry (@academicdave), who was then a Ph.D. student at Albany. I began regularly reading his blog, academHack, and also began following the blog of another young scholar, VTmtngrrl, who blogged at the most cake and later moved to the month of june.
---