DIY Stuffs
How to turn "water" into marbles. 7 Mad Science Experiments You Can Do At Home But Probably Shouldn't. By the time you finish reading this article, you will undoubtedly think of Theo Gray when you hear someone say "mad scientist.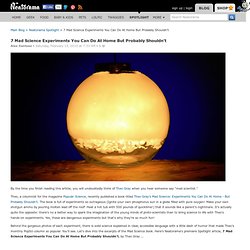 " Theo, a columnist for the magazine Popular Science, recently published a book titled Theo Gray's Mad Science: Experiments You Can Do At Home - But Probably Shouldn't . The book is full of experiments so outrageous (Ignite your own phosphorus sun in a globe filled with pure oxygen! The Gizmologists Lair. Windbelt, Cheap Generator Alternative, Set to Power Third World. October 1, 2007 12:00 AM Working in Haiti, Shawn Frayne, a 28-year-old inventor based in Mountain View, Calif., saw the need for small-scale wind power to juice LED lamps and radios in the homes of the poor.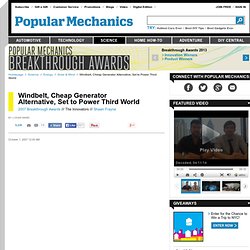 Conventional wind turbines don't scale down well—there's too much friction in the gearbox and other components. "With rotary power, there's nothing out there that generates under 50 watts," Frayne says. So he took a new tack, studying the way vibrations caused by the wind led to the collapse in 1940 of Washington's Tacoma Narrows Bridge (aka Galloping Gertie). Frayne's device, which he calls a Windbelt, is a taut membrane fitted with a pair of magnets that oscillate between metal coils. [Project] L3p D3sk - techPowerUp! Forums. Welcome to Dangerous Laboratories! How To Make A Coil Gun: Turning Electricity Into Velocity « Fear Of Lightning. How To Make A Coil Gun: Turning Electricity Into Velocity In this article, I'll show you how to build a coil gun.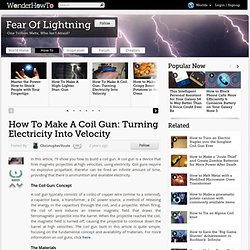 A coil gun is a device that fires magnetic projectiles at high velocities, using electricity. Coil guns require no explosive propellant, therefor can be fired an infinite amount of time, providing that there is ammunition and available electricity. The Coil Gun: Concept A coil gun typically consists of a coil(s) of copper wire (similar to a solenoid), a capacitor bank, a transformer, a DC power source, a method of releasing the energy in the capacitors through the coil, and a projectile.
---