Computer Shopping
WASD Keyboards: Custom Mechanical Keyboards
Computer Components, Computer Accessories items in HELLFIRE TOYZ LLC store on eBay!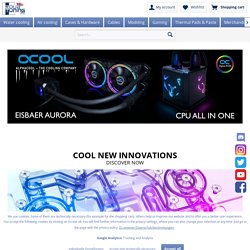 English Español Francais
Your watercooling and modding distributor
Product Details: The new Alphacool NexXxos radiators, a name that stands for experience and quality has come to bring a fresh breeze to the radiator market. Every user of a water cooling system needs a radiator and everyone has different requirements towards the heat exchanger. Of course the customer always demands the best in its class. The Alphacool NexXxos radiators have come to compete with and to beat the best in their class and to be the best radiator in all sizes.
Alphacool NexXxoS UT60 Full Copper 480mm Products Model: 14175 [14175] : Performance-PCs.com, ... sleeve it and they will come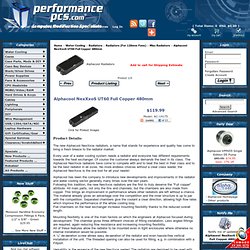 Home page
SVC.com - Computer Case Fans, CPU Heatsinks, Water Cooling, and more!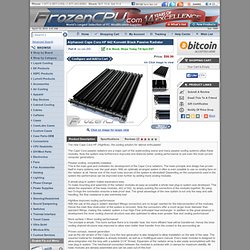 The new Cape Cora HF (Highflow), the cooling solution for silence enthusiasts! The Cape Cora passive radiators are a major part of the watercooling scene and many passive cooling systems utilize these modules. Now the system was furthermore improved and features better cooling performance to suit even the most current computer generations. Passive cooling, completely noiselessThis is the main goal and motivation for development of the Cape Cora radiators. The basic principle and design has proven itself in many systems over the past years.
Alphacool Cape Cora HF 642 Konvekt Black Passive Radiator - FrozenCPU.com
Lamp Electronics
1.877.590.9750 | PC Modding Supplies | UV Liquid Cooling at Arctic Temperatures
Let Danger Den help you be cool!
Let Danger Den help you be cool!
The entire line of Lutro0 Customs sleeving and tools is making it's way to FrozenCPU.com. The full line of colors for the Teleios sleeving and a ton of LC modified tools to make your next custom job easier will be available right here. Coming Soon!! January 2014 The Cross Desk is the result of years of research and hundreds of design variations. Our goal with Cross was to bring to market the most ultimate and all-encompassing PC case ever created.
1.877.243.8266 | World's Largest Selection of PC Modification Supplies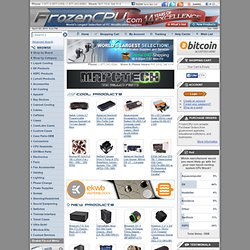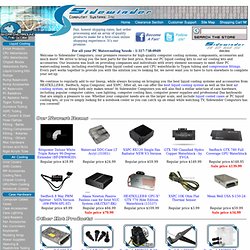 The Latest Sidewinder News - New Products and more August 19, 2013 Two more Passive PC Chassis have arrived from Akasa: The Galileo Thin Mini ITX Case and the Newton - for Intel NUC Systems We also added four new radiators from Watercool E.K., The new HTSF2 is available in single, double, triple and quad 120mm configurations. PC Radiators
Computer Liquid Cooling & Premium Air Products, Parts, Kits & Accessories | Sidewinder Computers
Fans & Cooling COOLERMASTER, Arctic Cooling, Scythe, Noctua, BitFenix
ModRight.com
April 29, 2013 :: ModRight Mod-Mat Xtreme Anti-Static Assembly Surface w/ Reference Guides The ModRight super large anti-static modmat and assembly surface is the next in line of the ever popular Mod-Mat Series. With enough room to complete your entire assembly on! The oversized modmat is a huge 1200mm x 600mm which is over 47" x 23". This allows plenty of room to complete your entire build on without worry of static or scratching pricey hardware and parts.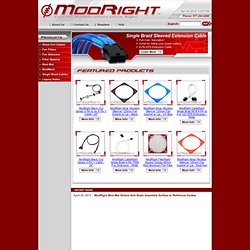 NCIX.com - Canada's Premier Computer Store - Online PC Discount Store, Buy Computer Accessories
The Best Canadian PC Watercooling and Modding Store!
PC Case Mods Store & Professional Case Modding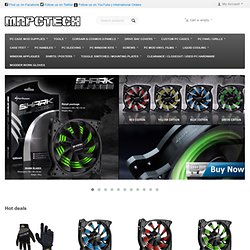 Find us on Facebook Follow us on Twitter Follow us on YouTube | International Orders My Account Track my order(s) Sign in | Register Cart is empty
DARWINmachine
Scythe Gentle Typhoon - D1225C12B5AP-15 - 1850rpm
Why? How? Buy! Buy?
Home | EkWaterBlocks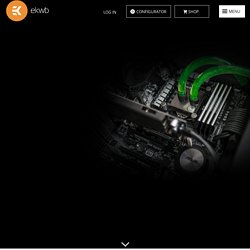 XSPC Rasa, Raystorm, Razor, Dominator & Xbox Waterblocks >> XSPC Watercooling Shop
Cases - CaseLabs Store