Computer Shopping
WASD Keyboards: Custom Mechanical Keyboards. Computer Components, Computer Accessories items in HELLFIRE TOYZ LLC store on eBay! Your watercooling and modding distributor. Alphacool NexXxoS UT60 Full Copper 480mm Products Model: 14175 [14175] Product Details: The new Alphacool NexXxos radiators, a name that stands for experience and quality has come to bring a fresh breeze to the radiator market.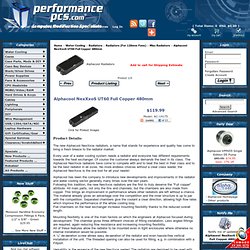 Every user of a water cooling system needs a radiator and everyone has different requirements towards the heat exchanger. Of course the customer always demands the best in its class. The Alphacool NexXxos radiators have come to compete with and to beat the best in their class and to be the best radiator in all sizes. Home page. SVC.com - Computer Case Fans, CPU Heatsinks, Water Cooling, and more!
Alphacool Cape Cora HF 642 Konvekt Black Passive Radiator. The new Cape Cora HF (Highflow), the cooling solution for silence enthusiasts!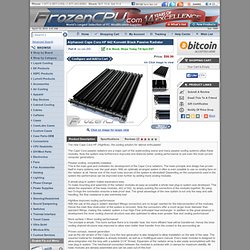 The Cape Cora passive radiators are a major part of the watercooling scene and many passive cooling systems utilize these modules. Now the system was furthermore improved and features better cooling performance to suit even the most current computer generations. Passive cooling, completely noiselessThis is the main goal and motivation for development of the Cape Cora radiators. The basic principle and design has proven itself in many systems over the past years.
Lamp Electronics. 1.877.590.9750 | PC Modding Supplies | UV Liquid Cooling at Arctic Temperatures. Let Danger Den help you be cool! Let Danger Den help you be cool! 1.877.243.8266 | World's Largest Selection of PC Modification Supplies. Computer Liquid Cooling & Premium Air Products, Parts, Kits & Accessories | Sidewinder Computers. Fans & Cooling COOLERMASTER, Arctic Cooling, Scythe, Noctua, BitFenix. ModRight.com. NCIX.com - Canada's Premier Computer Store - Online PC Discount Store, Buy Computer Accessories. The Best Canadian PC Watercooling and Modding Store! PC Case Mods Store & Professional Case Modding. DARWINmachine. Scythe Gentle Typhoon - D1225C12B5AP-15 - 1850rpm. Home | EkWaterBlocks. XSPC Rasa, Raystorm, Razor, Dominator & Xbox Waterblocks >> XSPC Watercooling Shop. Cases - CaseLabs Store.
---