Computer Shopping
WASD Keyboards: Custom Mechanical Keyboards
Computer Components, Computer Accessories items in HELLFIRE TOYZ LLC store on eBay!
Your watercooling and modding distributor
Product Details:
Alphacool NexXxoS UT60 Full Copper 480mm Products Model: 14175 [14175] : Performance-PCs.com, ... sleeve it and they will come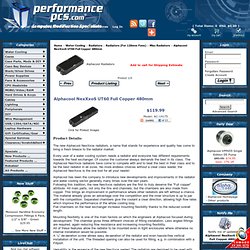 Home page
SVC.com - Computer Case Fans, CPU Heatsinks, Water Cooling, and more!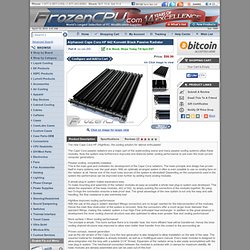 The new Cape Cora HF (Highflow), the cooling solution for silence enthusiasts!
Alphacool Cape Cora HF 642 Konvekt Black Passive Radiator - FrozenCPU.com
Lamp Electronics
1.877.590.9750 | PC Modding Supplies | UV Liquid Cooling at Arctic Temperatures
Let Danger Den help you be cool!
Let Danger Den help you be cool!
1.877.243.8266 | World's Largest Selection of PC Modification Supplies
Computer Liquid Cooling & Premium Air Products, Parts, Kits & Accessories | Sidewinder Computers
Fans & Cooling COOLERMASTER, Arctic Cooling, Scythe, Noctua, BitFenix
ModRight.com
NCIX.com - Canada's Premier Computer Store - Online PC Discount Store, Buy Computer Accessories
The Best Canadian PC Watercooling and Modding Store!
PC Case Mods Store & Professional Case Modding
DARWINmachine
Scythe Gentle Typhoon - D1225C12B5AP-15 - 1850rpm
Home | EkWaterBlocks
XSPC Rasa, Raystorm, Razor, Dominator & Xbox Waterblocks >> XSPC Watercooling Shop
Cases - CaseLabs Store