Extensiones Chrome
Wunderlist
Search by Image (by Google)
This extension allows you to initiate a Google search using any image on the web. By the Google Images team. Version 1.5.1 Notes: ------------------------------ Minor updates. Previous Version Notes: ------------------------------ 1.5.0: Changed the extension behavior so that the camera icon is not injected into the webpage's DOM until it is absolutely necessary. 1.4.3: Removed all jQuery references and significantly reduced the run-time memory footprint. 1.4.2: Minor updates. 1.4.1: Users now have an option to select from several minimum dimensions for images they want the hover camera icon to be displayed. 1.4.0: This extension now works on images with non-public URLs. Found an image on the web that you're curious about? With this extension, you can initiate a search on Google using pictures on the web.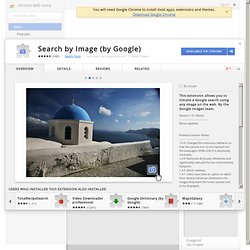 Download Master
MagicScroll eBook Reader
Screen Capture (by Google)
Botón +1 de Google
My Chrome Theme
Save & Email My Tabs
Home
Select Search
Why Disconnect Your personal info should be your own. But these days thousands of companies invisibly collect your data on the Internet, including the pages you go to and the searches you do. Often, this personal data is packaged and sold without your permission. What we believe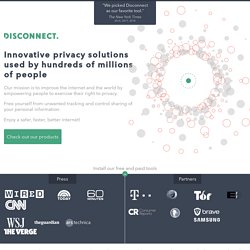 En la navegación privada y la búsqueda | Stop de seguimiento en línea y el malware | Desconectar
User-Agent Switcher for Chrome
Window Close Protector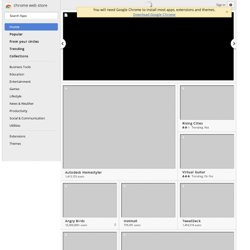 Show a warning dialog when closing a window containing multiple tabs. This extension adds a warning dialog to help protect against accidentally closing multiple tabs. Whenever the browser tries to close a tab that is not currently visible, for example when closing a window containing multiple tabs, or when quitting the browser, it will prompt for confirmation. You can still close specific tabs or windows that contain only a single tab as usual without getting a warning. (In case you're curious how it works: the extension adds a new beforeUnload handler to the oldest non-active non-empty tab in the window.) Known bugs/limitations: - You may get spurious warnings if the protected tab auto-reloads automatically in the background, there is no way for a script to distinguish between that and a close event.
Select and Speak
Select and Speak uses iSpeech's human sounding text to speech (TTS) to let you select text from almost any website and make it talk. Select and Speak uses iSpeech's human-quality text-to-speech (TTS) reads selected text. It includes 43 iSpeech text to speech voices. You can configure the voice and speed options by changing the settings on the options page.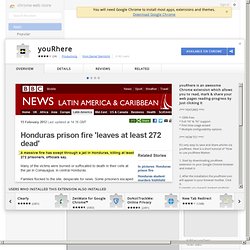 youRhere is an awesome Chrome extension which allows you to read, mark & share your web pages reading-progress by just clicking it /*** FEATURES ***/ * 100% Free * Full "rtl" & "ltr" support * First time usage wizard * Multiple configurability options /*** HOW TO? ***/ It's very easy to save and share articles via youRhere. Here is a short tutorial of "How to use youRhere Marker: 1. Start by downloading youRhere extension to your Google Chrome browser and install it. 2. After the installation the youRhere icon will appear in your browser toolbar.
youRhere
Troll Emoticons
UltimateGuitar.com Tabs
PanicButton
Herramientas de Guitarra
Extensión Pearltrees
AudioSauna
Pearltrees
Graph.tk
Numéricos calculadora y convertidor
Psykopaint
Daum Equation Editor
Color Piano
GeoGebra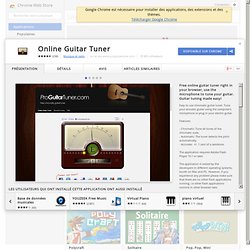 Free online guitar tuner right in your browser, use the microphone to tune your guitar. Guitar tuning made easy! Easy to use chromatic guitar tuner. Tune your acoustic guitar using the computer's microphone or plug in your electric guitar. Features: - Chromatic: Tune all tones of the chromatic scale. - Automatic: The tuner detects the pitch automatically. - Accurate: +/- 1 cent of a semitone. The application requires Adobe Flash Player 10.1 or later.
Online Guitar Tuner
Google Music
Guitar Pro Viewer
Guitar Chords