Connect
I am so sorry for the delay this week, it has been a rough one. So, here is how it went, more or less… Last Thursday night - got sucked into a good online conversation and stayed up till 4:00am Friday - Woke up at 7:00am, Got to work at 8:00am, Ran a performance rehearsal with elementary school children till 10:00am, Ran a performance till 11:00am, played outdoors with children, while wearing a skirt and strappy sandals till 12:00pm, Moved large furniture to another school till 2:00pm, danced my ASS off till 4:00pm, supervised a small group of exhausted children till 6:00pm, Came home, showered and changed, met my friend Sandie at 9:00pm, drove out to Pasco County in search of a dark patch of sky to watch the meteor shower till 2:00am, went to sleep at 3:00am.
Just me: A picture a day.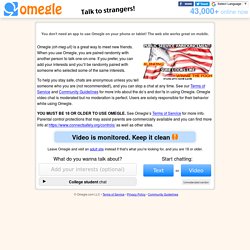 The Internet is full of people; Omegle lets you meet them. When you use Omegle, we pick someone else at random and let you have a one-on-one chat. You're kept anonymous unless you tell someone personal info (not suggested—safety is important), and you can stop a chat at any time. If you prefer, you can add your interests, and Omegle will look for someone who's into some of the same things as you, instead of someone completely random. By using Omegle, you accept the terms at the bottom.