Stew and Soup
Recipe for Crockpot Black Bean Chili with Lime and Cilantro. (This Black Bean Chili with Lime and Cilantro that can be made in a slow cooker or on the stove is today's pick for the month of Daily Phase One Recipes.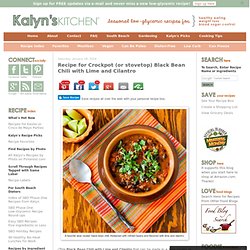 I've have a very hard time choosing just one favorite chili recipe, but this is definitely on my list of faves. You can see all the recipes from the month by clicking Daily Phase One Recipes. Check after the recipe for Phase One Flashbacks from this day in 2012 and 2013.) Crockpot Chicken and Butternut Squash Stew. I love fall colors and flavors.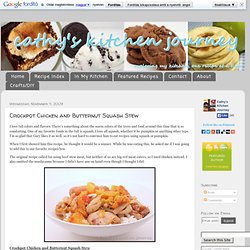 There's something about the warm colors of the trees and food around this time that is so comforting. One of my favorite foods in the fall is squash. I love all squash, whether it be pumpkin or anything other type. I'm so glad that Gary likes it as well, so it's not hard to convince him to eat recipes using squash or pumpkin. Turkey Lentil Stew. This hearty Crockpot stew recipe came to me as I walked by the roasted chickens at the market.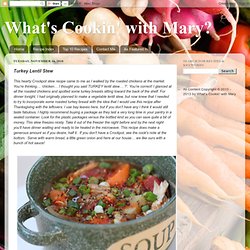 You're thinking… 'chicken… I thought you said TURKEY lentil stew… ?'. You're correct! I glanced at all the roasted chickens and spotted some turkey breasts sitting toward the back of the shelf. An autumn dinner. Crockpot Beef Stew Recipe. I mar­ried a meat and pota­toes guy.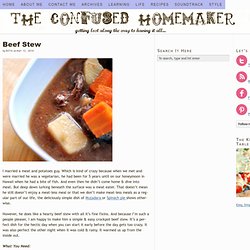 Which is kind of crazy because when we met and were mar­ried he was a veg­e­tar­ian, he had been for 5 years until on our hon­ey­moon in Hawaii when he had a bite of fish. And even then he didn't come home & dive into meat. But deep down lurk­ing beneath the sur­face was a meat eater. That doesn't mean he still doesn't enjoy a meat-less meal or that we don't make meat-less meals as a reg­u­lar part of our life, the deli­ciously sim­ple dish of Mujadara or Spinach pie shows oth­er­wise.
Taco Soup for the Crockpot Recipe | Dianasaur Dishes. Taco Soup is my favorite soup recipe and one of my absolute favorite crockpot recipes!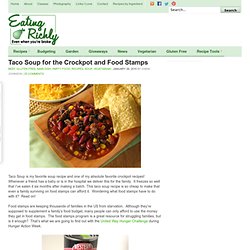 Whenever a friend has a baby or is in the hospital we deliver this for the family. It freezes so well that I've eaten it six months after making a batch.
---