Meals
Get flash to fully experience Pearltrees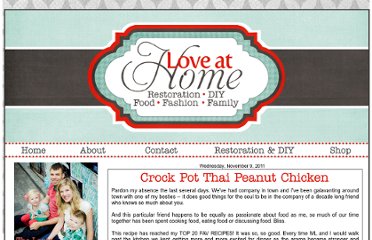 Pardon my absence the last several days. We've had company in town and I've been galavanting around town with one of my besties -- it does good things for the soul to be in the company of a decade long friend who knows so much about you. And this particular friend happens to be equally as passionate about food as me, so much of our time together has been spent cooking food, eating food or discussing food. Bliss. This recipe has reached my TOP 20 FAV RECIPES! It was so, so good.
Foodsaver V3460 Smartseal Vacuum Sealing Machine (Google Affiliate Ad) 1. All vegetables taste the same in the crock-pot.
First of all, I promise this isn't turning into a food blog But, I asked on facebook what you all would like me to post next, and sharing my first attempt at freezer cooking won the vote! If you want more freezer meal ideas, follow me on facebook now! So, yesterday I achieved my first ever attempt at "freezer cooking". Stephanie, one of my favorite bloggers over at Mama and Baby Love did a post about it months ago , and I've wanted to do it ever since, but just haven't taken the time. She just released her first E-Cookbook!
Its crazy busy around here! With birthdays, parties, friends, school events, traveling, being a parent, kid homework, and baking for my husband I'm running from one place to the next. I've been opting to take some shortcuts in the kitchen lately rather than hauling the family off to McDonald's for dinner, much to my 8-year-old's chagrin. The cranberry flavor in these sweet and sour meatballs makes for a nice fall meal.
Hello…"Dishboy" Scott here. I again have been given the honor of posting to Laura's blog…so here goes: I have a theory about chili. I think most people tend to like the style of chili that they grew up eating. For me, that was a very "traditional" chili, so it shouldn't surprise you that this chili recipe I created tends to favor the traditional style. However, it is also my tendency to like big, bold flavors, so I've departed from the usual a bit.
Lasagna was one of the first things I made from scratch in college when I finally started cooking on my own full time. It was so much work, and when I was finished I had used every pan in the kitchen and was completely exhausted. When I finally tasted it all could I mutter was… eh . It was okay, but by no means worth all that work, and I would have taken a store bought lasagna over what I had just slaved over any given day.
If anyone looks at this recipe for Crockpot Pumpkin Chili with Ground Beef, Black Beans, and Kidney Beans and thinks "Hmm, that photo looks familiar," it's probably because last night I edited these photos, loaded them into a post, and then accidentally hit publish instead of save. That means if you happened to click on the blog in the couple of minutes before I discovered my mistake, you saw these pictures with no words. One sweet reader even left a very tactful comment saying "I don't see where the ingredients are listed." My apologies for the confusion, and for making you wait another day for this delicious recipe.
(Updated and added to Recipe Favorites , July 2010.) Sometimes I tend to forget about crockpot recipes when it's summer, but actually slow cookers are a wonderful way to cook when you don't want to heat up your house. This week I had lots of collard greens in my garden , so I used the crockpot to make this combination of turkey Italian sausage, beans, and collard greens. My neighbor Michelle loves this recipe, and she tells me you can also cook it on the stove if you're in a hurry or don't have a crockpot. I used pinto beans, but you could make this with any type of dried beans and kale or swiss chard could replace the collards if that's what you have.