Crock Pot
How to Cook Dried Beans in a Crockpot Slow Cooker. Dried beans are one of those magical foods that have everything going for them.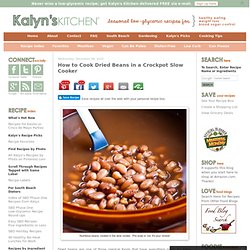 Beans are inexpensive, and they're a good source for many vitamins and minerals, plus they're also high in fiber, high in protein, and naturally low in fat, sugar, and sodium. Manytypesofdriedbeans are listed among The World's Healthiest Foods, and beans are also listed as one of the Superfoods that we should all be eating often. Not only are beans nutritious, they're loaded with healthy slow-burning complex carbohydrates, and are low on the glycemic index, making them a good food choice for anyone who's concerned about blood sugar, whether for weight-loss or health reasons.
Desserts. Dips. Sauces. Stew and Soup. Pork. Chicken. Crock Pot Recipes for the Crockpot and Slow Cooker. Crock Pot Recipes Crock pot recipes are perfect for busy cooks.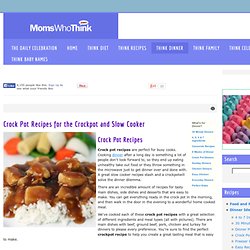 Cooking dinner after a long day is something a lot of people don't look forward to, so they end up eating unhealthy take out food or they throw something in the microwave just to get dinner over and done with. A great slow cooker recipes stash and a crockpotwill solve the dinner dilemma. Crockpot Recipes - Enjoy original recipes from Crock-Pot or submit your own CrockPot recipe. Crockpot Recipes - More than 1400 Crockpot Recipes for the Crock Pot or Slow Cooker.
---