Wedo
LEGO WeDo and Scratch. "Motor" redirects here.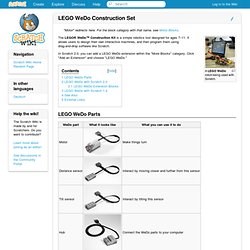 For the block category with that name, see Motor Blocks. A LEGO WeDo robot being used with Scratch. Scratch-ing the LEGO WeDo. I have been Scratch-ing with LEGO WeDo kits, and my high school level students absolutely love it!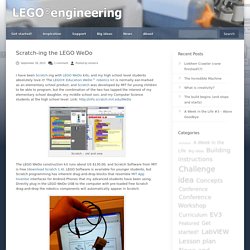 The LEGO® Education WeDo™ robotics kit is normally ear-marked as an elementary school product, and Scratch was developed by MIT for young children to be able to program, but the combination of the two has tapped the interest of my elementary school daughter, my middle school son, and my Computer Science students at the high school level. Link: Scratch – old and new The LEGO WeDo construction kit runs about US $130.00, and Scratch Software from MIT is free (download Scratch 1.4). Bringing bricks to life with LEGO WeDo and Scratch » Christian Heindel – IT Solutions & Consulting.
Today, we added a new component to our experiments with 7+ LEGO Education WeDo (product website) 9580 LEGO® Education WeDo Construction Set 150+ elements including a motor, motion and tilt sensors, and the LEGO USB Hub9585 LEGO® Education WeDo Resource Set extra building blocks for more models like Ferris Wheel, Crane, Car or House, additional elements such as wheels, rotors and a door The distance sensor can sense objects within a range of about 20 cm in steps from 0-100.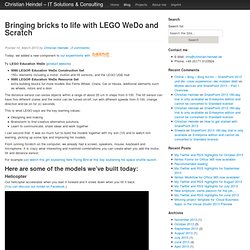 The tilt sensor can have five different states and the motor can be turned on/off, run with different speeds from 0-100, change direction and be on for (x) seconds. This is what LEGO says are the key learning values: WeDo Project Ideas. WeDo project ideas Looking for ways to get started with WeDo?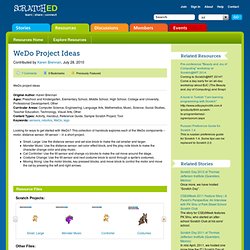 This collection of handouts explores each of the WeDo components -- motor, distance sensor, tilt sensor -- in a short project. Small, Large: Use the distance sensor and set size block to make the cat smaller and larger. Monster Music: Use the distance sensor, set color effect block, and the play note block to make the character change color and play music. Cat Controller: Use the tilt sensor and change x/y blocks to make the cat move around the stage. LEGO WeDo.
Bringing bricks to life with LEGO WeDo and Scratch » Christian Heindel – IT Solutions & Consulting. WeDo. El kit WeDo The WeDo kit El set de construcción básico WeDo permite a los niños construir y programar modelos robóticos LEGO sencillos conectados a un equipo informático.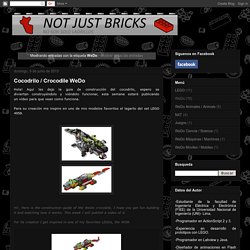 Este set contiene 158 piezas, incluyendo un motor, sensores de movimiento e inclinación y un Hub USB LEGO. The set of basic building WeDo enables children to build and program simple LEGO robot models connected to a computer. We Do WeDo. Scratch version 1.4 has special programming blocks to interact with motors and sensors in LEGO WeDo robotic creations.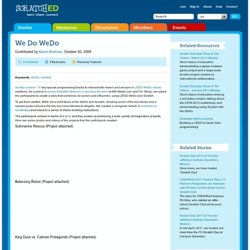 As a part of a course that Mitch Resnick is teaching this term at MIT Media Lab (and I'm TAing), we asked the participants to create a story that combines on-screen and off-screen, using LEGO WeDo and Scratch. To get them started, Mitch did a brief demo of the WeDo and Scratch, showing some of the key blocks and a sample project about a friendly (but misunderstood) alligator. We created a miniguide (which is available on ScratchEd ) and linked to a series of WeDo building instructions. The participants worked in teams of 2 or 3, and they ended up producing a wide variety of imaginative projects.
---