Recipes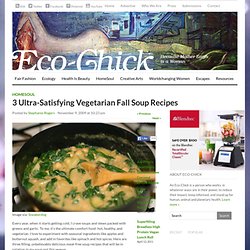 Image via: Sneakerdog Every year, when it starts getting cold, I crave soups and stews packed with greens and garlic. To me, it's the ultimate comfort food: hot, healthy, and vegetarian. I love to experiment with seasonal ingredients like apples and butternut squash, and add in favorites like spinach and hot spices. Here are three filling, unbelievably delicious meat-free soup recipes that will be in rotation in my soup pot this season.
Grilled Eggplant & Tomato Stacks
Tortellini With Eggplant and Peppers
Artichoke and Sun-Dried Tomato Pasta Recipe - Easy Vegetarian Pasta Recipe - Easy Vegan Pasta Recipe - Quick Simple Italian Food
Sometimes the simplest of foods are so nourishing and tasty they seem more than gourmet. This is a simple pasta recipe with sun-dried tomatoes, artichoke hearts and fresh chopped basil, but the combination of ingredients is simply sublime. This is an absolutely fantastic vegetarian and vegan pasta dish. Ingredients: 2 tbsp olive oil 3 cloves garlic 1/2 red pepper, diced 1 jar sun dried tomatoes, drained (about 3/4 cup dry, rehydrated) 1 cup artichoke hearts, sliced 1/3 cup sliced black olives 1/3 cup fresh chopped basil 1 box bow tie pasta, cooked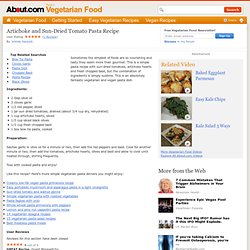 Many people enjoy healthy vegetarian pasta dishes. Pasta is adaptable, familiar and versatile, which makes it a comforting choice, especially for new vegetarians. If you're cooking for a mixed crowd, you can always cook a portion of meat separately to be added separately. Here are some fantastic vegetarian pasta recipes, some more traditional and inspired by Italian food, while others are unique and unusual.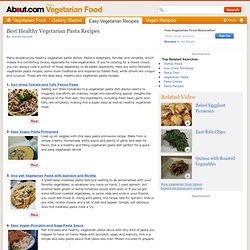 Best easy healthy vegetarian pasta recipes - Healthy pasta recipes - Easy vegetarian pasta dishes - Pasta sauces
Chickpea Burgers & Tahini Sauce
Black Bean Croquettes with Fresh Salsa
Cheese-&-Spinach-Stuffed Portobellos
Portobello "Philly Cheese Steak" Sandwich
Too lazy to find a food cart and not quite adventurous enough for a themed restaurant ? Occasional vegetarianism – flexitarianism – is a great way to do something green for the planet. Vegetarian meals are delicious, healthy for you, and many of them are very easy to make. Best of all, they're really, really cheap and easy to cook in your own kitchen .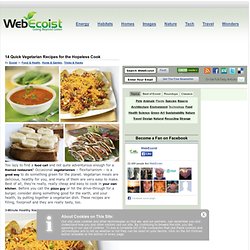 14 Quick Vegetarian Recipes for the Hopeless Cook
Frozen Watermelon Pops | Recipes