diy
Get flash to fully experience Pearltrees
It's Fashion's Night Out tonight, and my mind is on shoes. Though my pesky subconscious is mentally trying on a pair of Christian Louboutin boots I'll never own, my practical, conscious self is looking for innovative ways to organize the shoes that I do have… My current shoe storage situation is anything but spectacular.
Bunny Ear Bags DIY Here are some sweet little bunny ear bags. Our crafter this week, Irene, happens to have a thing for rabbits. So when we were talking about different ideas she came up with these clever little treat bags.
Sep 6 This is a series of posts I'm doing on affordable art. Find my other posts in this series here: Potato Print Art Work , Modern Art DIY , Painted Words as Art .
Repurposing hand-me-downs or flea market finds is so incredibly fun and the options are endless. Sometimes giving a piece of furniture a face lift is as easy as visiting your local hardware store. Most of us have an item in the home that used to have a purpose but now it's just sitting around with no particular place to go. For Sam, a broken down bench with no purpose was re-imagined into a beautiful rope bench. After a quick trip to a local hardware store, Sam was able to fix this bench up and give it new life.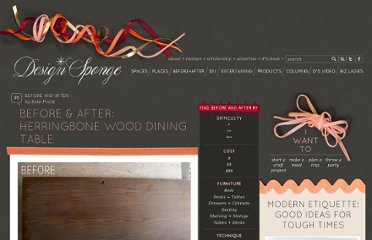 I felt a wave of excitement when this beautiful table makeover landed in my inbox. I'm not a woodworking expert, but I am always looking to try out new techniques. I'm absolutely determined to make myself something using Sarah's awesome herringbone design. Sarah Summers and her father, a self-taught carpenter, worked together to modify an old door into a custom table that will last for years. They managed to put the whole piece together for around $150, which is impressive for any kind of large dining table, but for a table that looks this good?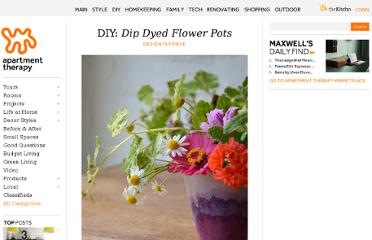 I'm on a color kick right now, and I have especially been enjoying ombre and tie-dyed infusions of pigment. I loved Abby's post about Sweet Paul's dyed sheets , and I love this DIY as well! Studio Choo over at Design*Sponge lined out a DIY to turn biodegradable paper cups (albeit, not shabby looking to begin with) and dip dying them into home made dyes made of organic material to give them these beautiful pink and purple hues. I love the watercolor look, the gradation of color, and the fact that they're made from natural pigments! This seems like it could be an amazing project for a wedding, for experimenting with finding new colors, and even to do with kids! I've definitely got this one bookmarked!
grace mentioned to me that jewelry storage is a hot topic for a lot of readers, so i set to work brainstorming some possibilities! i realized that there are basically two camps: people who like their jewelry on display (neatly of course), and people who like to hide it away (also neatly). so i am going to do two diys for jewelry storage that can satisfy both camps. the first is an attempt at hidden storage, which in this case is a mega top-secret, ninja-spy, behind-the-painting deal. i've always loved the idea of secret hiding places in fat old books, under rugs, and behind old paintings. this is pretty easy to rig up, especially if you have an old painting with a nice wood frame, but really any picture with a relatively wide wood frame will do fine. if you feel like you have too much jewelry to fit, this can also be a great way to store keys and mail by the entryway. or you could pair it with a nice leather bound book with a secret cutout container. have fun! – kate
I know some of you still have snow on the ground, but for us Floridians summer is already kicking into high gear. And summer means flip flops . Yep, we southern girls have 'em for everything: casual wear, evening wear, 'flops with heels, 'flops with big poofy flowers glued on...you name it. They're cheap impulse buys, so it's easy to accumulate a whole mountain of flip-flops in a single season.