iPad in Education
Bloom's Taxonomy and iPad Apps  LearningToday shares with everyone two beautiful posters, that help us remember Bloom's Taxonomy: the Blooming Butterfly and the Blooming Orange.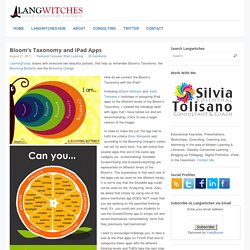 How do we connect the Bloom's Taxonomy with the iPad? Following inDave Mileham and Kelly Tenkeley's footsteps of assigning iPad apps to the different levels of the Bloom's Taxonomy, I created the following table with apps that I have tested out and am recommending. (Click to see a larger version of the image) Ten Sites Supporting iPads In Education… A Post Of Resources. It's time to bring you more information on some fantastic iPad resource sites for education.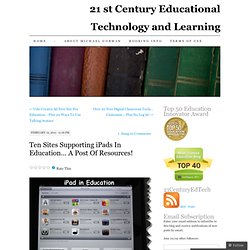 As more schools discover the power of the iPad, there seem to be more educators excited about discovering apps that engage students while making classroom learning come alive! Before presenting these ten sites please take a moment to sign up by either RSS or email to this post. iPads in Education - Exploring the use of iPads and mobile devices in education. iPads in the Classroom. 100 iPad Tips and Tricks.pdf. 68 Interesting Ways to use an iPad in the Classroom. Critical evaluation of an ipad/ipod app.
---