Having kids
How Do You Find Feminist Children's Books? My best luck has come through bloggers/authors.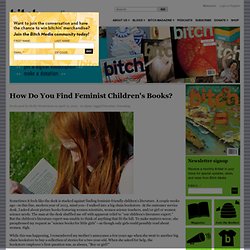 If you find one intelligent, feminist friendly author, see if they have a blog, and bookmark it. Writers READ, and authors who pay attention to issues of isms within their own work are usually seeking out things to read that do the same, as are their fans writing in the comments sections. I've found this has led me to a LOT of really excellent YA fiction and adult specfic; not sure what the children's book blogging community is like. 7 ways we're saving money while paying for daycare. Our cups budgeting system!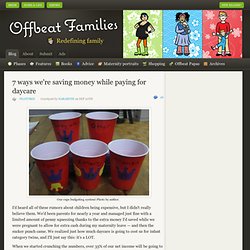 Photo by author. I'd heard all of these rumors about children being expensive, but I didn't really believe them. We'd been parents for nearly a year and managed just fine with a limited amount of penny squeezing thanks to the extra money I'd saved while we were pregnant to allow for extra cash during my maternity leave — and then the sucker punch came.
We realized just how much daycare is going to cost us for infant category twins, and I'll just say this: it's a LOT. My wife made a Chewbacca teddy bear. Diapers to Diplomas: April 2010. Tot School - Week 7 - Theme: Red Owen & Eli: 19 months old This week was a little tough.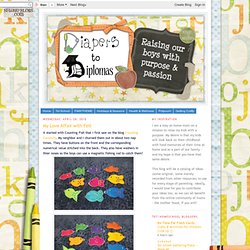 The boys started the week off with their 7th respiratory infection of the winter - this is way past ridiculous - so they weren't into that many activities and they were much more whiney than normal. It's hard to find motivation for learning when you're just trying to keep them happy! It was also a little tough because I feel like I'm in a rut with my color work. Julies blog: My Star Trek Quiet Book. My Star Trek Quiet Book I've had this project in my head for a while now, and finally finished it. and wanted to make another one.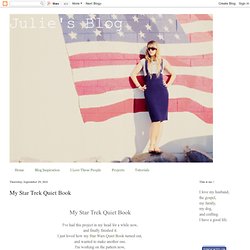 I'm working on the pattern now, 60 Popular Baby Shower Homemade Presents. Homemade presents for baby showers are easier than you think!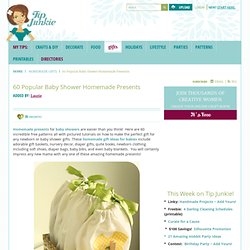 Here are 60 incredible free patterns all with pictured tutorials on how to make the perfect gift for any newborn or baby shower gifts. These homemade gift ideas for babies include adorable gift baskets, nursery decor, diaper gifts, quite books, newborn clothing including soft shoes, diaper bags, baby bibs, and even baby blankets. You will certainly impress any new mama with any one of these amazing homemade presents! Shopping List: What to Register For and Buy.
Trying to register for a first baby is challenging.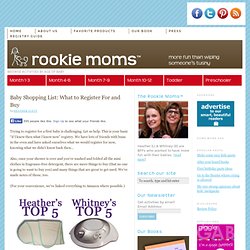 Let us help. This is your basic "if I knew then what I know now" registry. We have lots of friends with buns in the oven and have asked ourselves what we would register for now, knowing what we didn't know back then… Also, once your shower is over and you've washed and folded all the mini clothes in fragrance-free detergent, there are more things to buy (that no one is going to want to buy you) and many things that are great to get used. We've made notes of those, too. Blooming Bath - Baby Bath Seat, Baby Bath, Baby Bathtub, Baby Bath Tub, Baby Tub, Baby Bathing. Is There a 'Wrong' Reason to Have an Abortion? I was getting a pedicure earlier this year (this already sounds like a crappy sitcom premise) when two women next to me, one pretty darned (7 mos?)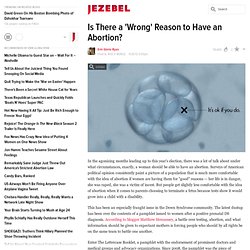 Pregnant and one not, started talking about how their mutual friend was just at the testing point in her pregnancy. And they both spent the entire time they were there tearing down even the idea of prenatal testing, because what kind of monster would even check, because you'd only check if you were hoping for a designer baby, and she's always been pretty selfish anyway, and ... What's the Deal With Extreme Morning Sickness, and More Importantly, Does it Mean the Royal Baby Will Be a Girl? I had Hyperemesis while pregnant with my daughter.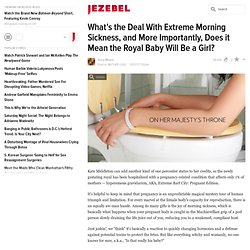 I was hospitalized 3 times and they had to put a long term IV in my arm so I could have someone give me IV fluids every other day. It was terrible. I tried to stay at work but had to go on medical leave. Not Wanting Kids Is Entirely Normal - Jessica Valenti. Why the ingrained expectation that women should desire to become parents is unhealthy Hamblin In 2008, Nebraska decriminalized child abandonment.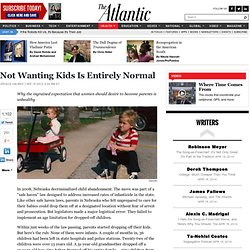 The move was part of a "safe haven" law designed to address increased rates of infanticide in the state. Trying to conceive? Need birth control? OvaOva is the shit, either way. Yay, charting!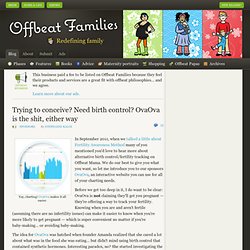 OvaOva makes it all easier. In September 2011, when we talked a little about Fertility Awareness Method many of you mentioned you'd love to hear more about alternative birth control/fertility tracking on Offbeat Mama. We do our best to give you what you want, so let me introduce you to our sponsors OvaOva, an interactive website you can use for all of your charting needs. Before we get too deep in it, I do want to be clear: OvaOva is not claiming they'll get you pregnant — they're offering a way to track your fertility. Knowing when you are and aren't fertile (assuming there are no infertility issues) can make it easier to know when you're more likely to get pregnant — which is super convenient no matter if you're baby-making… or avoiding baby-making. What pregnancy books can I read that won't make me crazy?
Photo by msomustek, used under Creative Commons license. My husband and I will begin baby making attempts in the next few months. I've never been into self-help and intend to approach pregnancy as just another stage in life, not some idealized baby obsessed utopia during which I need to document everything, take extreme precaution with safety and food, and transition my life into mommy perfection.
I've purchased the Mayo Clinic Guide to a Healthy Pregnancy, which is very straight-forward, medically accurate information. I'd like to find some book suggestions though that other Offbeat Mamas have found enjoyable and informative. — Theresa. So you wanna know … about cloth diapering triplets – the sequel | What the blog? I've been asked by several people to give an update on our adventures in cloth diapering.
I'll be honest – not much has changed. As with most things in our triplety world, we slowly evolve to adapt, tweaking one thing here, another thing there, moving pieces around until we have something that works. For now. What's the best way to make your own cloth diapers? I AM CONFUSED. Photo by supafly, used under Creative Commons license. We're currently expecting our first, and on a bit of a tight budget. My wonderful Mum has offered to make cloth diapers for us, but my diaper pattern research has been confusing as hell! Mom and Her Drill: Kid-Size Critter Proof Veggie Garden: REVEAL.
I had to haul 45 bags of soil and manure down this slope (1 at a time), but it was worth it. I took a video of when the kids jumped out of the car and ran down the slope. I love surprising them. This project took me several days and I am so worn out I can barely type. How I turned an IKEA changing table into a co-sleeper. Co-sleeping for you and me Before we had the Bot, I had planned on her sleeping in her crib from the start. Yeah, I should have known better. The first night home we set up the hand-me-down pack-n-play in our bedroom and attempted to let her sleep in that.
Analyzing the costs and benefits of having a kid: is it worth it? Funny Parenting Photos Blog: Sh*t My Kids Ruined. Nerdy iron-on patterns for your LARPer baby. Your online birth plan - Pregnancy and baby guide. Home Birth in the UK. Who decides whether you have a caesarean section? - Labour & birth - ThinkBaby. Life in the Fourth Trimester. The Great 'What you wish you'd known when you had a baby' Hunt 2012. How to raise a happy geek kid. When can I start to teach my children about consent?
19 Surprising Facts About Toddlers. Flexible working: how women can make part-time work pay. Nursery services — My Birkbeck. The Shape of a Mother. Baby Shock: Amazon.co.uk: Elizabeth Martyn, Relate. 6 Terrifying Things They Don't Tell You About Childbirth. 7 Terrifying Things They Don't Tell You About Pregnancy. Suedo Design. Zen Cart!, The Art of E-commerce. Home | Goths | Su Su Ma Ma World Wear. Susie-f's Baby Mary Janes - Pure Silk (ivory) Susie-f's Baby Owl Hat. Vintage_Baby.pdf (application/pdf Object) The Happiest Baby On The Block [DVD] [2005]: Amazon.co.uk: Dr. Harvey Karp: Film & TV.
The Great Ormond Street New Baby & Child Care Book: The Essential Guide for Parents of Children Aged 0-5: Amazon.co.uk: Maire Messenger, Tessa Hilton. Baby Manual: Conception to 2 Years Haynes Owners Workshop Manual: Amazon.co.uk: Dr. Ian Banks. You're the Daddy: The ultimate guide to being a new Dad for blokes: Amazon.co.uk: Stephen Giles. Fatherhood books. In search of a baby called Derek. Little Vampire Dummy: Amazon.co.uk: Toys & Games. Tuesday Tots the 4 elements | Rainy Day Mum. Belle Bébés - Family in fancy dress. Parenting Science – The science of parenting and child development. The Dadspin Guide To Feeding A Baby.
Feminism/_html/_pdf/JWA064a.pdf. Breastfeeding while glamorous « blue milk. Parenting advice I ignored… but now wish I had tried sooner. Sitters Babysitting - Nationwide Evening Childcare Specialists. Mamasan Maternity Clothing. What do you wish you had done differently after finding out you were pregnant? My Baby Rocks: Punk rock & cool baby clothes, tutus, toddler apparel, shoes & maternity. Redefine family. Gothic Parents - Uncut. Gothic Charm School. Raising the Spawn of a Subculture. Pushba.
---