Malaysia
Death penalty to stay. Deputy Home Minister Abu Seman Yusop says there are 930 people on death row as of August, this year.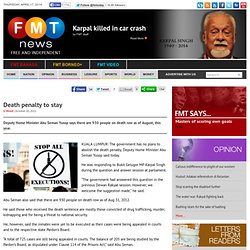 KUALA LUMPUR: The government has no plans to abolish the death penalty, Deputy Home Minister Abu Seman Yusop said today. He was responding to Bukit Gelugor MP Karpal Singh during the question and answer session at parliament. "The government had answered this question in the previous Dewan Rakyat session. Court's ruling on cartoonist's suit sets disturbing precedent for media freedom. Reporters Without Borders is disappointed by the Kuala Lumpur High Court's ruling today in the civil suit that Zulkiflee Anwar Haque, the political cartoonist better known as Zunar, brought against the Malaysian authorities.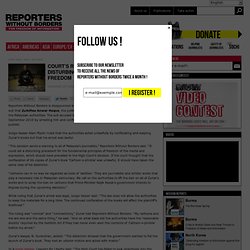 The suit accused them of acting illegally and causing him material losses in September 2010 by arresting him and confiscating copies of the book of cartoons he was about to publish. Judge Vazeer Alam Mydin ruled that the authorities acted unlawfully by confiscating and keeping Zunar's books but that his arrest was lawful. "This decision sends a warning to all of Malaysia's journalists," Reporters Without Borders said. "It could set a disturbing precedent for the fundamental principles of freedom of the media and expression, which should have prevailed in the High Court's decision. Police brutality more widespread during Bersih 3.0, says Bar Council @ Tue May 01 2012. Bar Council president Lim Chee Wee at the briefing. — Picture by Jack Ooi KUALA LUMPUR, May 1 — The Bar Council has blamed the police for the violence of last Saturday's Bersih 3.0 rally, accusing the authorities of human rights violations and widespread brutality.
Lim Chee Wee, who is Bar Council president, said that its monitoring team found more instances of police brutality compared to last year's Bersih event. A highly critical Lim said the authorities had failed to take heed of criticisms and recommendations outlined by the Malaysian Human Rights Commission (Suhakam) with regards to police conduct during Bersih's first two rallies, and lamented on how "little has changed." 860 on death row for various offences. London riots: Student Ashraf Rossli's muggers jailed. 15 March 2012Last updated at 08:22 ET Kafunda and Donovan were found guilty of robbery and violent disorder Two men have been jailed for robbing a Malaysian student as they pretended to help him during the riots in London.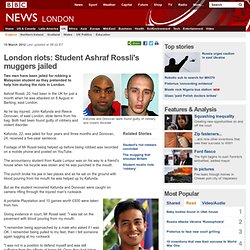 Ashraf Rossli, 20, had been in the UK for just a month when he was attacked on 8 August in Barking, east London. Bar Council wants death penalty scrapped @ Sat Mar 10 2012. KUALA LUMPUR, March 10 — Lawyers unanimously passed a resolution at the Bar Council annual general meeting (AGM) today calling for capital punishment to be abolished and replaced with life imprisonment instead.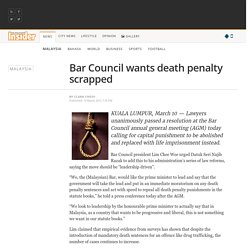 Bar Council president Lim Chee Wee urged Datuk Seri Najib Razak to add this to his administration's series of law reforms, saying the move should be "leadership driven". "We, the (Malaysian) Bar, would like the prime minister to lead and say that the government will take the lead and put in an immediate moratorium on any death penalty sentences and act with speed to repeal all death penalty punishments in the statute books," he told a press conference today after the AGM.
"We look to leadership by the honourable prime minister to actually say that in Malaysia, as a country that wants to be progressive and liberal, this is not something we want in our statute books." Recognising Malaysia's stateless Indians - Asia-Pacific. Ethnic Indians comprise nearly eight per cent of the Malaysian population, yet an inability to obtain their proper documents has rendered generations stateless.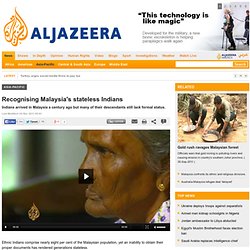 Official government estimates say 40,000 ethnic Indians, the descendants of Indians who arrived in Malaysia to work on plantations a century ago, do not have birth certificates or identity cards. Activists say that number is much higher. Lacking basic documentation, many ethnic Indians do not have formal education and are unable to seek legal employment or cast a ballot. Human rights movement like Communism, says former IGP @ Wed Oct 26 2011. Tan Sri Abdul Rahim Mohd Nor chatting to Shazryl Eskay Abdullah at the Perkasa general assembly. – Picture by Jack Ooi KUALA LUMPUR, Oct 26 – The nation's former top cop has likened the rise of the human rights movement in Malaysia to communism, and said this would lead to the questioning of "accepted truths" like the social contract.
"Every century has its wave... and we cannot avoid being hit by this wave. "Now, it's the human rights wave... National debt in 2010 at RM407b, says government audit @ Mon Oct 24 2011. KUALA LUMPUR, Oct 24 — Malaysia's national debt rose by 12.3 per cent to over RM407 billion last year, according to the Auditor-General's report released today.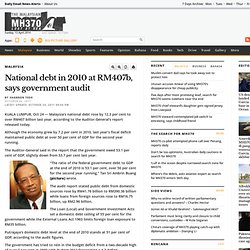 Although the economy grew by 7.2 per cent in 2010, last year's fiscal deficit maintained public debt at over 50 per cent of GDP for the second year running. The Auditor-General said in the report that the government owed 53.1 per cent of GDP, slightly down from 53.7 per cent last year. Cops shoo away local 'Occupy Wall St' offshoot. Police direct attendees of the "Occupy Dataran" event to disperse, four hours after the even started.
—Picture by Jack Ooi KUALA LUMPUR, Oct 15 — A 50-strong crowd gathered in Dataran Merdeka today to show solidarity with the Occupy Wall Street movement in New York, only to be dispersed by police after four hours of fun and games. About 10 uniformed policemen cut short the "Occupy Dataran" event at 7.35pm after telling the organisers they could not gather in the public square without a permit from Kuala Lumpur City Hall (DBKL). The gathering, organised by the Kuala Lumpur People's Assembly, had been scheduled to go on for 14 hours from 4.00pm today until 6.00am tomorrow.
The police and DBKL officials kept close watch on the proceedings, which kicked off earlier this evening with sketches, a picnic, games and musical performances, including a spirited rendition of the Zee Avi hit, "Kantoi", on the ukulele. Public forum on the abolition of the death penalty.
---