Ruby
Ruby Robots - AgileAndArt
O que é um método? na programação orientada a objetos, não pensamos em operar sobre os dados diretamente a partir de seu exterior; os objetos devem saber como operar sobre si mesmos (quando se pede amavelmente). Poderíamos dizer que passamos uma mensagem ao objeto e esta mensagem obtém algum tipo de ação ou resposta significativa. Isto deve ocorrer sem que tenhamos necessariamente algum tipo de conhecimento ou sem que nos importe como o objeto realiza o trabalho internamente. As tarefas que podemos pedir que um objeto realize (ou equivalente, as mensagens que ele entenda) são os métodos dos objetos. Em Ruby, nós chamamos um método de um objeto com o intermédio do potno (como em C++ ou Java).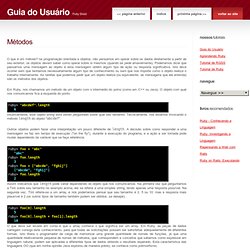 Ruby Brasil - Guia do Usuário - Parte 11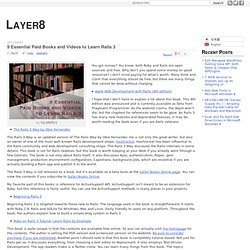 You got money? You know, both Ruby and Rails are open sourced, and free. Why don't you spend some money on good resources? I don't mind paying for what's worth. Many think and claim that everything should be free, but there are many things that cannot be done without charging.
9 Essential Paid Books and Videos to Learn Rails 3
O Guia (comovente) de Ruby do Why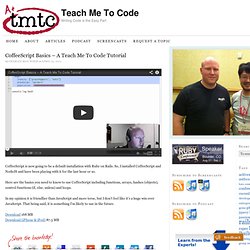 CoffeeScript is now going to be a default installation with Ruby on Rails. So, I installed CoffeeScript and NodeJS and have been playing with it for the last hour or so. Here are the basics you need to know to use CoffeeScript including functions, arrays, hashes (objects), control functions (if, else, unless) and loops. In my opinion it is friendlier than JavaScript and more terse, but I don't feel like it's a huge win over JavaScript. That being said, it is something I'm likely to use in the future. Download 168 MBDownload (iPhone & iPod) 87.3 MB
CoffeeScript Basics – A Teach Me To Code Tutorial
Publicado por Dalto Curvelano em 13 de November de 2009 Nós não colocamos links para apresentações no Ruby Inside Brasil com muita frequência, mas mesmo com a qualidade ruim do áudio no vídeo, a apresentação do Tom é top de linha (os slides são particularmente bons) e ele cobre alguns tópicos bem interessantes que achamos que desenvolvedores Ruby poderiam revisar. Se você quer permanecer no vagão da programação funcional, mas se encontra escorregando para programação imperativa em lugares aonde não deveria, vale a pena assistir a esta apresentação.
Pensando Funcionalmente em Ruby
O Melhor do RubyFlow – 12 Links sobre Ruby de Março de 2010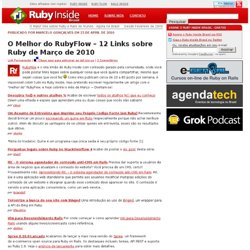 RubyFlow é o site irmão do Ruby Inside com conteúdo gerado pela comunidade, onde você pode postar links legais sobre qualquer coisa que você queira compartilhar, mesmo que sejam coisas que você fez Como eles publicam cerca de 20 a 80 posts por semana, é impossível cobrir tudo no Ruby Inside, mas pretendo escrever regularmente um artigo com o "melhor do" RubyFlow, e hoje cobrirei o mês de Março — Divirtam-se! *Nota do tradutor: Quine é um programa cuja única saída é seu próprio código fonte [1] Acabei de postar o 4o. post desta série.