Video
Música. SlideShows. Web-TV. Sendshots. EmbedPlus. VideoBam. Shwup. Surf2gether. Vaymax. OpenShot. I am proud to announce the immediate availability of OpenShot version 1.2.2!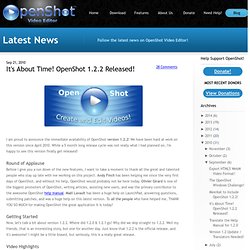 We have been hard at work on this version since April 2010. While a 5 month long release cycle was not really what I had planned on, I'm happy to see this version finally get released! Round of ApplauseBefore I give you a run down of the new features, I want to take a moment to thank all the great and talented people who stay up late with me working on this project. Andy Finch has been helping me since the very first days of OpenShot, and without his help, OpenShot would probably not be here today. MyTube60. Stupeflix. Video Toolbox: Video editor.
Animoto. Share Webcam Videos on Twitter. Fliggo. Seesmic. Jumpcut. Viddler.com. iDesktop. iBloks. TeacherTube. YouTube.
---