Streaming
It has been a long time since we first launched Yaika.com in 2008 and now, after three years of everyday operating, we're now closing the site for maintenance and reconstruction. On behalf of our friendly team I would like to thank all of our users, who spent time on Yaika! and broadcasted their video and radio channels live.
Yaika!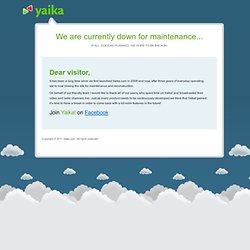 Megalive
Start an Online Radio Station Publish Your Own Podcast Custom Online MP3 Player Share Your Audio Online Create and broadcast your own internet radio station. iRadeo is for anyone that wants to stream audio online; radio stations, podcasters, musicians, and more. Fully customize your player and station settings Player auto-updates with every audio upload Embed your player on any website or blog High quality online audio streaming Online radio streaming made simple. Nothing to download and no technical skills required.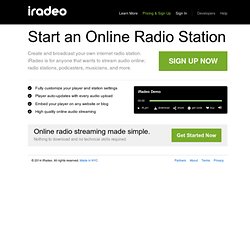 iRadeo
What is Justin.tv? Justin.tv is the easiest way to freely create and share live video. Users can browse thousands of premium broadcasters on Justin.tv streaming their News, Radio, Entertainment, Animals, Sports, and personal Social channels with millions of viewers simultaneously. As one of the original and largest live streaming platforms, Justin.tv viewers watch more than 300 million live streams available in over 250 countries each month. In fact, Justin.tv's audience spends more time watching Justin.tv videos than YouTube videos in the US (Comscore, Feb. 2013).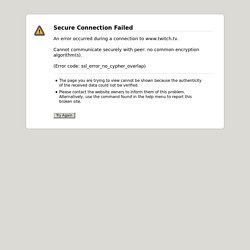 Stickam
Radionomy