E-journals
Edutec-e.
ltimo N de COGNICIN, revista cientfica educativa TERCER CONGRESO VIRTUAL IBEROAMERICANO DE CALIDAD EN EDUCACIN A DISTANCIA EduQ@2010 PRIMER LLAMADO A PARTICIPACIÓN 1st CALL FOR PAPERS
COGNICION Revista Científica
Revista Electrónica de Tecnología Educativa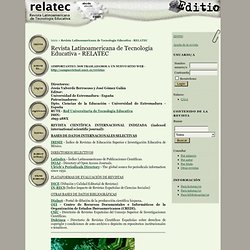 ¡¡IMPORTANTE!!: NOS TRASLADAMOS A UN NUEVO SITIO WEB - http://campusvirtual.unex.es/revistas Directores: Jesús Valverde Berrocoso y José Gómez Galán Editor: Universidad de Extremadura - España Patrocinadores: Dpto. Ciencias de la Educación - Universidad de Extremadura - España RUTE - Red Universitaria de Tecnología Educativa ISSN:1695-288X REVISTA CIENTÍFICA INTERNACIONAL INDIZADA (indexed international scientific journal): IRESIE - Índice de Revistas de Educación Superior e Investigación Educativa de México.
Revista Latinoamericana de Tecnología Educativa - RELATEC
EMagazine:Tech & Learning (August 2010) http://ow.ly/2hJbj
Journal of Distance Education Vol 24, No 3 (2010)
Editor-in-Chief Dr. Melanie Clay University of West Georgia Melly's DLA Blog Managing Editor Ms. Dawn Senfeld University of West Georgia Associate Editor Ms. Robin Stewart University of West Georgia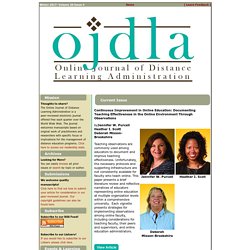 UWG - OJDLA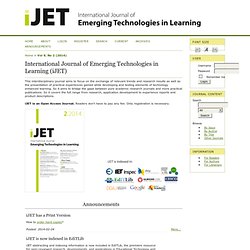 This interdisciplinary journal aims to focus on the exchange of relevant trends and research results as well as the presentation of practical experiences gained while developing and testing elements of technology enhanced learning. So it aims to bridge the gape between pure academic research journals and more practical publications. So it covers the full range from research, application development to experience reports and product descriptions. iJET is an Open Access Journal.
GLOBALIZACION-COMPETITIVIDAD-GOBERNABILIDAD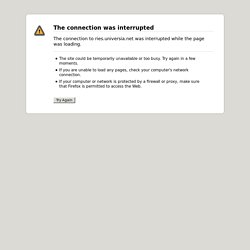 Información legal La Revista Iberoamericana de Educación Superior es una publicación cuatrimestral editada por Universia y el Instituto de Investigaciones sobre la Universidad y la Educación, de la Universidad Nacional Autónoma de México, dirección http://ries.universia.net/index.php/ries/index . Editor responsable: Emma Paniagua Roldán. Reserva de derechos al uso exclusivo No. 04-2010-022210190600-203.
RIES
tp://www.jofde.ca/index.php/jde/index
Revista: Tech & Learning (mayo 2010)
Revista de Estilos de Aprendizaje
E-magazine: Tech & Learning (April 2010)
CPU-e Revista de Investigación Educativa
Investigación Educación y masculinidad en un Colegio técnico de la Patagonia argentina: el caso de los salesianos en Comodoro Rivadavia durante la primera mitad del siglo XX Gabriel Carrizo Diagnóstico de los estilos de aprendizaje en los estudiantes: Estrategia docente para elevar la calidad educativa Maribel Aragón García y Yasmín Ivette Jiménez Galán Crítica y opinión Acerca del multiculturalismo, la educación intercultural y los derechos indígenas en las Américas Érica González Apodaca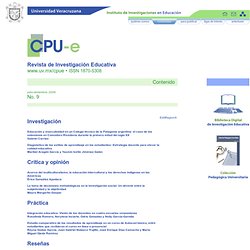 RIED
Presentación Edutec-e, Revista Electrónica de Tecnología Educativa (ISSN:1135-9250), desde 1995 recoge artículos de reflexión generados en el ámbito de la Tecnología Educativa. Edutec-e tiene como principales objetivos difundir trabajos de investigación y experiencias de nuestro entorno profesional y servir de plataforma para el diálogo, el intercambio de ideas y la participación en la lista de distribución edutec-l.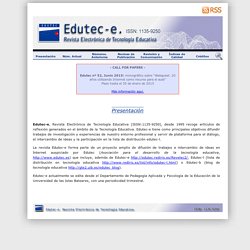 Edutec
University Affairs - Canada's magazine on higher education and academic jobs