Investigacion
Investigación sobre la creación y diseño de Escenarios de Aprendizaje con TIC By .@juandoming | A New Society, a new education! Estudio: Aplicaciones móviles. Mientras nosotros nos debatimos si es iOS o Android la plataforma más usada, si Symbian debe morir o si BlackBerry quiere pero no puede, y hablamos a diario del rampante mercado de las aplicaciones móviles...parece ser que de los usuarios adultos de smartphones en Estados Unidos, sólo el 35% tiene apps en sus teléfonos, y de estos sólo el 24% de hecho las usa, y un 11% de los norteamericanos adultos ni siquiera sabe si su teléfono puede ejecutar apps.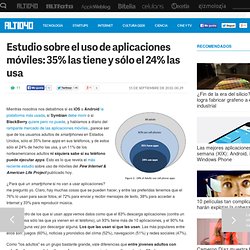 Esto es lo que revela el más reciente estudio sobre uso de móviles del Pew Internet & American Life Project publicado hoy. ¿Para qué un smartphone si no van a usar aplicaciones? Me pregunto yo. WEF: Global Competitiveness Report 2010. The Global Competitiveness Report 2013 - 2014 The Global Competitiveness Report 2013-2014 assesses the competitiveness landscape of 148 economies, providing insight into the drivers of their productivity and prosperity.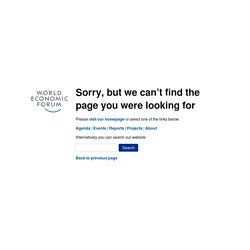 The Report series remains the most comprehensive assessment of national competitiveness worldwide. TheGlobal Competitiveness Report 2013-2014assesses the competitiveness landscape of 148 economies, providing insight into the drivers of their productivity and prosperity. The Report series remains the most comprehensive assessment of national competitiveness worldwide.Download full ReportCountry rankings: PDF | ExcelCountry highlightsSustainable CompetitivenessData PlatformSee our Partner InstitutesPress releases: English | عربي I Español I Français I Deutsch I Português I 日本語 I 中文Join the...
Post date: September 3, 2013. Older Adults & Social Media | Social networking use among internet users ages 50 and older has nearly doubled—from 22% to 42%—over the past year Status updating has also grown in popularity among older users; one in ten say they use Twitter or another service to share updates or see updates about others WASHINGTON, DC – While social media use has grown dramatically across all age groups, older users have been especially enthusiastic over the past year about embracing new networking tools.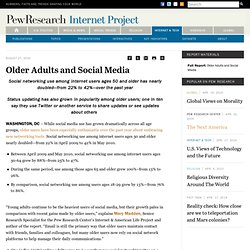 Social networking use among internet users ages 50 and older nearly doubled—from 22% in April 2009 to 42% in May 2010. Between April 2009 and May 2010, social networking use among internet users ages 50-64 grew by 88%–from 25% to 47%. Kids Text Every 10 Minutes When They're Awake. Consumer Report Information. Uso de la tecnología de parte de los docentes. Los resultados del "Faculty Survey of Student Engagement" (2009) no son muy halagadores en relación al uso de la tecnología por los docentes.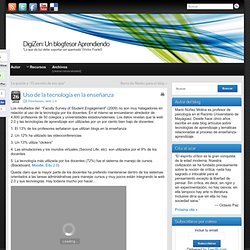 En el mismo se encuestaron alrededor de 4,600 profesores de 50 colegios y universidades estadounidenses. Los datos revelan que la web 2.0 y las tecnologías de aprendizaje son utilizadas por un por ciento bien bajo de docentes: 1. El 13% de los profesores señalaron que utilizan blogs en la enseñanza. Employers confirm: e-learning integral for employee training. Employers confirm: e-learning integral for employee training Employers Australia-wide have confirmed that e-learning is now entrenched as a tool for employee training, according to the 2010 Employer E-learning Benchmarking Survey Draft Report released today.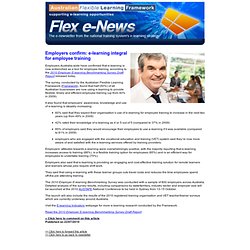 The survey, conducted by the Australian Flexible Learning Framework (Framework), found that half (50%) of all Australian businesses are now using e-learning to provide flexible, timely and efficient employee training (up from 40% in 2009). It also found that employers' awareness, knowledge and use of e-learning is steadily increasing: Pew Internet Report: 7/10 usuarios adultos de Internet (69%) la usan para ver y descargar vídeos. Technology linked to happiness, study claims.
12 May 2010Last updated at 09:38 Social media and mobile phones were highly valued.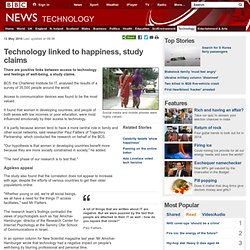 There are positive links between access to technology and feelings of well-being, a study claims. BCS, the Chartered Institute for IT, analysed the results of a survey of 35,000 people around the world. Access to communication devices was found to be the most valued. College Students Unplugged: 24 Hours without Media Brings Feelings of Boredom, Isolation, Anxiety. May 27, 2010 By: Mary Bart in EdTech News and Trends College students who abstained from using media for 24 hours describe their feelings in terms more commonly associated with drug and alcohol addictions: Withdrawal, Frantically craving, Very anxious, Extremely antsy, Miserable, Jittery, Crazy.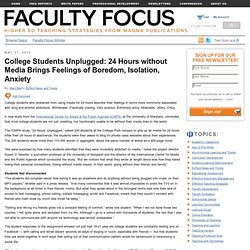 A new study from the International Center for Media & the Public Agenda (ICMPA) at the University of Maryland, concludes that most college students are not just unwilling, but functionally unable to be without their media links to the world. The ICMPA study, "24 Hours: Unplugged," asked 200 students at the College Park campus to give up all media for 24 hours. After their 24 hours of abstinence, the students were then asked to blog on private class websites about their experiences. Kids More Likely to Own a Cellphone Than a Book, Study Finds. As technology becomes more a part of our day-to-day lives, some are worried that it is stunting the education of children by taking away time from activities like reading.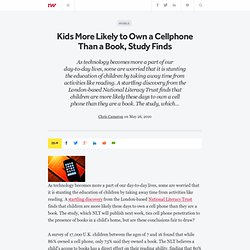 A startling discovery from the London-based National Literacy Trust finds that children are more likely these days to own a cell phone than they are a book. The study, which NLT will publish next week, ties cell phone penetration to the presence of books in a child's home, but are these conclusions fair to draw? A survey of 17,000 U.K. children between the ages of 7 and 16 found that while 86% owned a cell phone, only 73% said they owned a book. The NLT believes a child's access to books has a direct effect on their reading ability, finding that 80% of children reading at their expect levels have their own books. La interacción en línea tiene efectos positivos en la vida real. Fotografía de Adam Borkowski.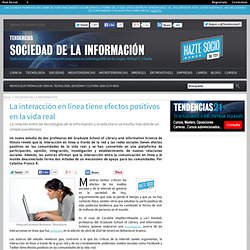 PhotoXpress. Mientras tantos critican los efectos de los medios sociales y de la Internet en general en la sociedad de hoy, argumentando que solo se pierde el tiempo y que ya no hay contacto físico, existen otros que estudian la parte positiva de esta poderosa tendencia que ha cambiado la forma de vivir de millones de personas en el mundo. Es el caso de Caroline Haythornthwaite y Lori Kendall, profesoras del Graduate School of Library and Information Science, quienes realizaron una investigación acerca de las interacciones en línea que fue publicada en la edición de abril de 2010 de American Behavioral Science. Las autoras del estudio revelaron que, contrario a lo que los críticos de la Internet suelen argumentar, la interacción en línea a través de la gran red y de los crecientemente poderosos medios sociales como Facebook y Twitter tiene efectos positivos en las comunidades de la vida real.
In Mobile, Women Rule Social Networking. InShare4 Based on data collected and analyzed using Google Ad Planner, I recently discovered that in Social Media, women rule.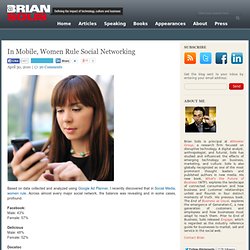 Across almost every major social network, the balance was revealing and in some cases, profound. Twitter Usage In America: 2010. Twitter Usage In America: 2010 is a new report derived from the Edison Research/Arbitron Internet and Multimedia Series. This study presents three years of tracking data from a nationally representative telephone survey (via landline and mobile phone) of 1,753 Americans, and was conducted in February 2010. This report details new data on the awareness and usage of Twitter, along with user demographics, status updating behaviors, brand following activity and even an early look at location-based social networking. The study was originally presented on Thursday, April 29th, in an online presentation. Highlights of the study include: REPORTE: The Impact of the Internet on Institutions in the Future. Ages of social network users.
Posted in Tech blog on February 16th, 2010 by Pingdom UPDATE: There is a more recent post available, Social network demographics in 2012. How old is the average Twitter or Facebook user? What about all the other social network sites, like MySpace, LinkedIn, and so on? How is age distributed across the millions and millions of social network users out there? Aprovechamiento de estudiantes bajo metodogía online vs presencial.
Cuil. ResearchGATE - scientific network. The Global Competitiveness Report.
---