Artículos 2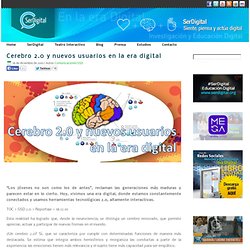 Cerebro 2.0 y nuevos usuarios en la era digital
"Los jóvenes no son como los de antes", reclaman las generaciones más maduras y parecen estar en lo cierto.
PLN & PLE
The Ecology of Thought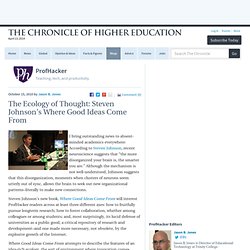 I bring outstanding news to absent-minded academics everywhere: According to Steven Johnson, recent neuroscience suggests that "the more disorganized your brain is, the smarter you are."
¿Cuánto dura el efecto de un tweet?
PLENK10: Too many learning theories
21 Definitions for a 21st-Century Education
Click here for PDF version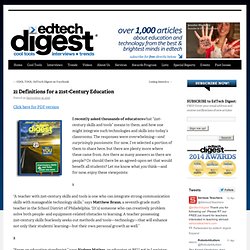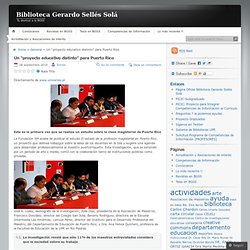 Un "proyecto educativo distinto" para Puerto Rico
i
Por Rosana Larraz | Actualizado el 10.07.12 | Publicado el 18.05.10
Internet en 2020, ¿Cómo será Internet?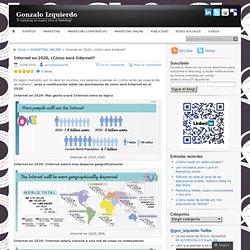 Inicio > MARKETING ONLINE > Internet en 2020, ¿Cómo será Internet?
Por Iñaki Huerta Después de la gran acogida que ha ido teniendo la guia para community managers en Facebook he querido intentar lo propio con Twitter. Se perfectamente que "segundas partes nunca fueron buenas", pero también creo que ambos medios, los indiscutibles reyes del social media, se diferencian tanto entre ambos que merece la pena hacerles guías separadas.
Guía para Community Managers en Twitter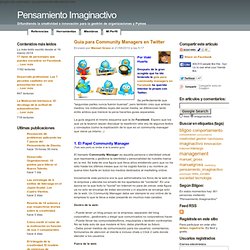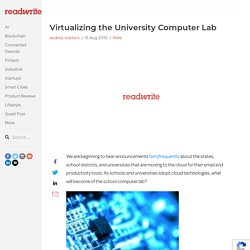 We are beginning to hear announcements fairly frequently about the states, school districts, and universities that are moving to the cloud for their email and productivity tools. As schools and universities adopt cloud technologies, what will become of the school computer lab? Computer labs have been important locations on campus for students to work, study, and access computing resources. But almost all students now come to college owning their own personal computers.
Virtualizing the University Computer Lab
Is There a Future for Computer Labs?
Technology Trends | Viewpoint Is There a Future for Computer Labs?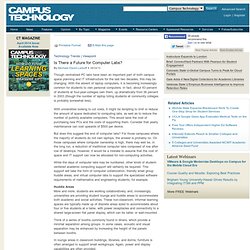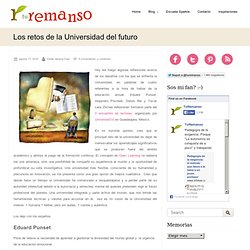 Los retos de la universidad del futuro | TuRemanso | Lo esencial es invisible a los ojos
Hoy les traigo algunas reflexiones acerca de los desafíos con los que se enfrenta la Universidad, en palabras de cuatro referentes a la hora de hablar de la educación actual: Eduard Punset, Alejandro Piscitelli, Dolors Rei y Tiscar Lara.
¿Por qué no soy constructuvista?
El termino "constructivismo" es omnipresente y a veces insidioso y ciertamente significa diferentes cosas para diferentes personas. Para explicar por qué no soy constructivista debo empezar por clarificar el término y analizar su alcance. El constructivismo es un campo muy amplio: solo en el sector educacional (no en áreas filosóficas o sociales) hay tantas como 25 diferentes variedades.
Twitter Facts & Figures
¿POR QUÉ LA ESCUELA NO EDUCA?
Social Networking Dominates Our Time Spent Online [STATS]
Social networking now eats up twice as much of our online time as any other activity.
Mañana se celebra en abierto el Congreso sobre e-Competencias que ha organizado la Universidad FLACSO de México junto a la Universidad de Minnesota y la Universidad de Toronto.
¿Nativos digitales? = ¿competentes digitales?
Open Learning – what i have learned.
Ten years ago Ten years ago, I started using discussion forums as a method for my students to collaborate on their writing. I started using the discussion forums because i had 275 writing students and was psychological incapable of keeping track of the paper associated with that in order to cope with my first job (at a university) that involved keeping track of student numbered grades.
How to Access the Internet (A Guide from 2025)
La importancia del Retweet
Futuro de la Universidad - UB
Seis escenarios del futuro educativo
Today Finland officially becomes first nation to make broadband a legal right
El Síndrome de la pantalla de visualización
Recursos Estándares de Competencia en TICs para Docentes
27 Formas prácticas para mejorar la instrucción
PDF: Fostering Information and Communication for Development. UNESCO
PDF: Neuroscience, learning and technology
The future of Internet II
"Los propios jóvenes están reclamando profesores y familiares más formados en las herramientas de Internet"
Modulo Competencia para Manejar Información (CMI) - RECURSOS POR PASO > Paso 2