Edumorfosis
Antonio Delgado
Diseñador Instruccional, Tecnólogo Educativo, Tele-Educador, Consultor eLearning
Now that you've written your eulogies for Google Reader, it's a good time to remember that Google has an abundance of other resources that may not be as popular but still deserve a spotlight. We rounded up some lesser-known Google tools and applications that could help you cope with the loss of Reader and rekindle your love for Google. From fun tools like Google Ngram Viewer to useful resources like Full Value of Mobile Calculator, you'll find an array of tools for developers to small business owners to the average consumer. Take a look at the gallery and let us know what your favorite Google tool is in the comments. Image courtesy of Flickr, Scobleizer.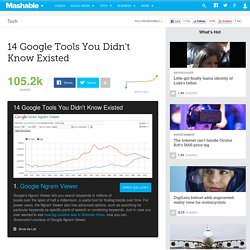 When Facebook announced its two-billion-dollar acquisition of virtual reality company Oculus Rift, the big question was, how will they integrate virtual reality with the Facebook experience? With our new Oculus Rift integration, HootSuite has the answer. Engaging with fans and customers is the bedrock of a successful social media strategy, and there's no better way to connect than with an immersive virtual reality experience.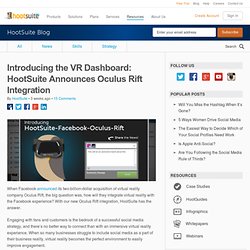 Introducing the VR Dashboard: HootSuite Announces Oculus Rift Integration
Podremos organizar los iconos de aplicaciones de Google desde el navegador
Google Educativo: Cómo Buscar en Google para Obtener Mejores Notas
Want to work for Google? Answer these five questions
Facebook Compra Whatsapp por 16 Mil Millones de Dólares
"Feliz cumpleaños Mark!": El Ejército Electrónico Sirio se apodera del dominio de Facebook
Foto: Google se está gastando cientos de millones en crear software capaz de aprender de la informacón almacenada en sus centros de datos. ¿Cuánto vale una docena de investigadores en aprendizaje profundo? Aparentemente, más de 400 millones de dólares (unos 295 millones de euros). Esta semana, Google supuestamente ha pagado esa cantidad por la adquisición de DeepMind Technologies, una start-up con sede en Londres (Reino Unido) que tiene una de las mayores concentraciones del mundo de investigadores trabajando en aprendizaje profundo, un campo de la inteligencia artificial relativamente nuevo cuyo objetivo es lograr que los ordenadores hagan cosas como reconocer caras en un vídeo o las palabras en el lenguaje humano (ver "Aprendizaje profundo").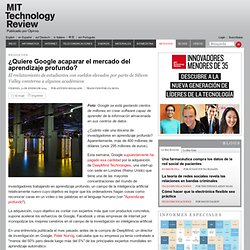 ¿Quiere Google acaparar el mercado del aprendizaje profundo?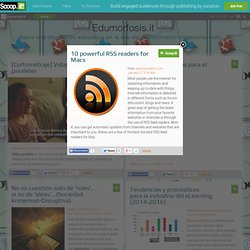 ne overriding challenge is now coming to the fore in public consciousness: We need to reinvent just about everything. Whether scientific advances, technology breakthroughs, new political and economic structures, environmental solutions, or an updated code of ethics for 21st century life, everything is in flux—and everything demands innovative, out of the box thinking. The burden of reinvention, of course, falls on today's generation of students. So it follows that education should focus on fostering innovation by putting curiosity, critical thinking, deep understanding, the rules and tools of inquiry, and creative brainstorming at the center of the curriculum.
10 powerful RSS readers for Macs | Edumorfosis.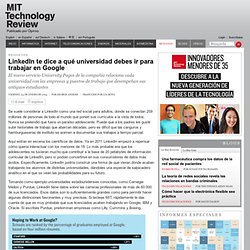 LinkedIn te dice a qué universidad debes ir para trabajar en Google El nuevo servicio University Pages de la compañía relaciona cada universidad con las empresas y puestos de trabajo que desempeñan sus antiguos estudiantes Viernes, 24 de enero de 2014 Por George Anders Traducido por Lía Moya Se suele considerar a LinkedIn como una red social para adultos, donde se conectan 259 millones de personas de todo el mundo que ponen sus currículos a la vista de todos. Nunca se pretendió que fuera un paraíso adolescente.
LinkedIn te dice a qué universidad debes ir para trabajar en Google
Facebook se ríe de Princeton: «No tendrá estudiantes en 2021»
How Google Is Changing Your Memory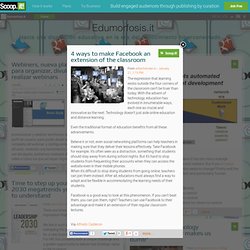 4 ways to make Facebook an extension of the cla
The issue of teaching computer programming at younger age in schools cropped up again over the summer, and a 16-year-old student has put forward an innovative solution. Plymouth-based James Anderson is the brains behind Thinkspace, an organization that aims to promote coding in schools at GCSE level. Anderson and his friends were frustrated with the current ICT curriculum, which focuses on using software like Excel and Powerpoint rather than the technical skills they will need to develop their own apps, games and software. Although Thinkspace isn't trying to change the curriculum, it is trying to get schools to create their own "Thinkspaces" – computer workshops where students are free to create and collaborate on any software they want. To join the program, schools don't necessarily have to have a high-tech development lab – any space with enough computers for all the students who want to participate will do.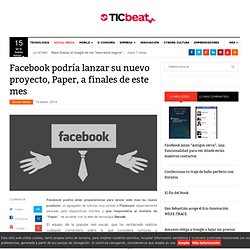 Facebook podría lanzar su nuevo proyecto, Paper, a finales de este mes
Facebook podría estar preparándose para lanzar este mes su nuevo producto: un agregador de noticias muy similar a Flipboard, especialmente pensado para dispositivos móviles y que respondería al nombre de "Paper", de acuerdo con la web de tecnología Recode. El equipo de la popular red social, que ha rechazado realizar cualquier comentario sobre lo que considera rumores y especulaciones, culminaría así una larga marcha emprendida hace años para crear ese "periódico personalizado" con marca Facebook que ha obsesionado a Mark Zuckerberg y Chris Cox. Según fuentes cercanas a la materia citadas por Recode, Paper y Flipboard compartirían bastantes características: ambas son aplicaciones eminentemente móviles que mezclan contenido de medios de comunicación generalistas con actualizaciones de nuestros contactos en las redes sociales, y las dos trasladan los formatos rich media a un entorno que, sin embargo, recuerda mucho al de las revistas en papel.
Facebook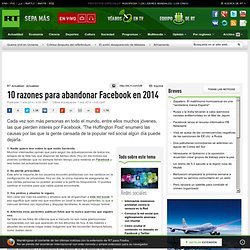 1. Nadie quiere leer sobre lo que estás haciendo. Muchos internautas opinan que para seguir las actualizaciones de todos los amigos de la lista hay que disponer de tiempo libre. Hoy en día incluso los jóvenes confiesan que no siempre tienen tiempo para meterse en Facebook y leer todas las actualizaciones que hay.
10 razones para abandonar Facebook en 2014
How to schedule Facebook posts using the new Facebook scheduler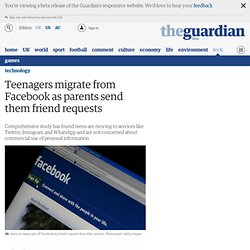 Facebook is 'dead and buried' to older teenagers, an extensive European study has found, as the key age group moves on to Twitter, Instagram, WhatsApp and Snapchat. Researching the Facebook use of 16-18 year olds in eight EU countries, the Global Social Media Impact Study found that as parents and older users saturate Facebook, its younger users are shifting to alternative platforms. "Facebook is not just on the slide - it is basically dead and buried," wrote Daniel Miller, lead anthropologist on the research team, who is professor of material culture of University College London.
Facebook 'dead and buried to teens', research finds | Technology
Los cinco motivos por los que la próxima generación no quiere Facebook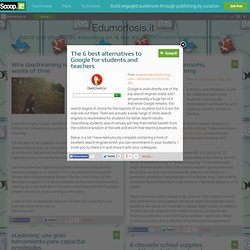 Lean innovation is being embraced by everyone — from the smallest start-ups to the largest global organizations. But in most cases, it's still falling well short of its full potential because it either lacks or fails to tightly integrate with the mechanisms needed to systematically capture lessons learned and share them outside the team. And that's where the money is in innovation. Lean innovation embraces a philosophy of not letting progress get in the way of perfection. It leverages the Pareto principle that 20% of a product's features (what's distilled down into the minimal viable product) will most likely deliver 80% of the benefits sought by customers.
The 6 best alternatives to Google for students
Lean innovation is being embraced by everyone — from the smallest start-ups to the largest global organizations. But in most cases, it's still falling well short of its full potential because it either lacks or fails to tightly integrate with the mechanisms needed to systematically capture lessons learned and share them outside the team. And that's where the money is in innovation.
[Infografía] Cómo Google est&aacu
Google is certainly one of the most powerfully smart search engines out there. I underscore "smart" as being the most distinctive feature that sets Google apart from the crowd. Being smart here means that it has the computational capacities to not only understand your search query but to also predict it based on the first term you type in. Being smart also means that it works like a Swiss knife: it can be used as a word dictionary, currency converter, calculator and many more and right from the search box. However, being a smart search engine is one thing and getting accurate search results from it is another thing.
Don't miss These Free Google Courses to Improve your Search Skills
[CUED] Cuatro herramientas para crear un Mooc e
La UPR se confiesa en Facebook
Facebook a punto de predecir la evolución de relaciones afectivas
Crea tu página web en Facebook con Brainedpage
Facebook admite que los adolescentes cada vez usan menos la red social
14 Facebook Tools You Didn't Know Existed
Los datos clave que no te revelan las nuevas Estadísticas de Facebook y que toda agencia debe saber
Búsquedas misóginas en Google: mucho que recorrer
Los caballeros prefieren Google+; las damas, Instagram y Pinterest
¿Está acabando Google con nuestra memoria?
5 best practices to consider when using #Facebo...
Cómo bloquear solicitudes de aplicaciones en Facebook ~ Docente 2punto0