Social Media
How to get better grades with social media. Eight alternative social media tools you should consider. Eight alternative social media tools you should consider. It's Official: Using Twitter Makes Students More Engaged. Further affirming what you probably already know, Twitter is evidently one of the best tools for learning and becoming an engaged student.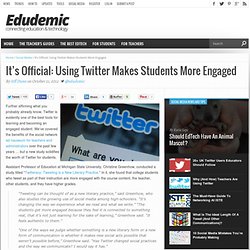 We've covered the benefits of the social network ad nauseum for teachers and administrators over the past few years … but a new study solidifies the worth of Twitter for students. Assistant Professor of Education at Michigan State University, Christine Greenhow, conducted a study titled "Twitteracy: Tweeting is a New Literary Practice." 10 Social Media Mistakes You're Probably Making. Social media.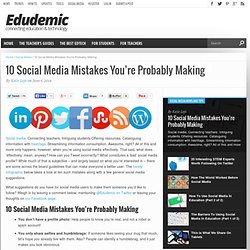 Connecting teachers. Intriguing students Offering resources. Cataloguing information with hashtags. Streamlining information consumption. Awesome, right? 6 Ways Social Media Will Change In 2014. When the clocks flip and 2013 becomes 2014, some things may change.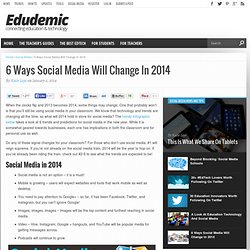 One that probably won't is that you'll still be using social media in your classroom. We know that technology and trends are changing all the time, so what will 2014 hold in store for social media? How Social Media Is Being Used In Education. Recently, the Babson Survey Research Group and Pearson conducted a survey of nearly 8,000 faculty members in higher education to find out more about how faculty are using social media.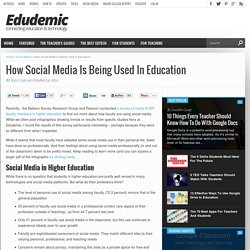 While we often post infographics showing trends or results from specific studies here at Edudemic, I found the results of this survey particularly interesting – perhaps because they were so different from what I expected. While it seems that most faculty have adopted some social media use in their personal life, fewer have done so professionally. And their feelings about using social media professionally (in and out of the classroom) seem to be pretty mixed. Keep reading to learn more (and you can access a larger pdf of the infographic by clicking here). How Social Media Is Being Used In Education. How Social Media Is Being Used In Education.
How To Use Instagram In The Classroom. We've shared a lot of different ideas here on how to integrate different forms of social media in the classroom.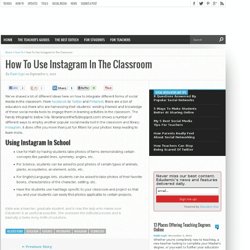 From Facebook to Twitter and Pinterest , there are a ton of educators out there who are harnessing their students' existing interest and knowledge of these social media tools to engage them in learning activities in the classroom. The handy infographic below (Via: librariansonthefly.blogspot.com) shows a number of different ways to employ another popular social media tool in the classroom and library: Instagram .
It does offer you more than just fun filters for your photos! 25 Ways Teachers Can Integrate Social Media Into Education. This Is How Teens Are Using Social Media. All of us old-ish folks that didn't grow up with hand held technology from the time we were just getting into big-kid beds sometimes ponder that children now enter the online world at a much younger age than we did.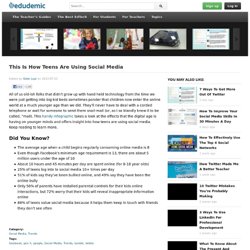 They'll never have to deal with a corded telephone or wait for someone to send them snail-mail (or, as I so blandly knew it to be called, "mail). This handy infographic takes a look at the effects that the digital age is having on younger minds and offers insight into how teens are using social media. The Student's Guide To Proper Social Media Etiquette.
If you're like me, you act differently on different social networks.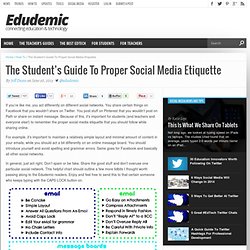 You share certain things on Facebook that you wouldn't share on Twitter. You post stuff on Pinterest that you wouldn't post on Path or share on instant message. Because of this, it's important for students (and teachers and everyone else!) To remember the proper social media etiquette that you should follow while sharing online. The Beginner's Guide To Facebook. Facebook dominates the web.
It's the most-visited social network by a large margin and has more than a billion users. Quite a feat for something started out of a Harvard dorm room. But the past is history and it's time to figure out how to use Facebook to help you make a better life for yourself. 5 Free Online Courses For Social Media Beginners. Whether you're new to technology, just getting started with a social network, or looking for some useful tips then these courses are for you. They're part of a new idea that I've been working on with a few friends. We're calling it Modern Lessons and it's essentially a 'Khan Academy for real-world skills' where a small handful of people build free online courses designed to help you learn some important things. But it's more than just a few useful videos about Twitter. There are customized certificates, quizzes, prerequisites, and more. NewsWise. A Learning Hub to help educators, parents, (and kids!)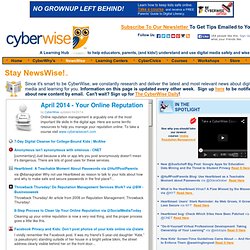 Understand and use digital media safely and wisely Learn how to keep kids safe online. Take a course and receive a FREE Parents' Guide to Digital Literacy. Since it's smart to be CyberWise, we constantly research and deliver the latest and most relevant news about digital media and learning for you. The 36 Rules Of Social Media. There are perhaps thousands of rules you should follow while on social media. Be courteous, don't overstep your bounds, don't stalk, harass, etc. The basic stuff. But what if you're a blogger, have a few social media profiles that you monitor, or simply want to get more followers? The 22 Milestones Of Education Technology. How Teachers Can Best Use Education Technology 8.67K Views 0 Likes Edtech isn't the final solution for education's problems. It's a powerful addition to classrooms though, so it's time to ask: what is the point of education technology? The Current State Of Technology In K-12 8.12K Views 0 Likes.
The 10 Best Web Tools For Flipped Classrooms. While flipping the classroom is still one of the hottest trends in education, it's got nothing on time-saving and downright useful apps and web tools. In an effort to provide a quick look at some of the best web tools for flipped classrooms, I thought it would be useful to poll the @Edudemic Twitter followers .
Including the tweets, I also got at least 40 emails from friends, colleagues, and administrators from around the world. The Characteristics Of A Successful Online Student. What If The World Were 100 People? A Handy Visual Guide To Running Effective Meetings. Social Media Guidelines For Students And Job Seekers. Sylvester Stallone's Story Will Inspire You To Pursue Your Dreams. How Students Benefit From Using Social Media. Why Should You Go To College? A Visual Guide To Twitter For Beginners.
25 Ways To Use Twitter To Improve Your Professional Development. 6 Steps To Becoming A Better Twitter User. How Online Learning Is Being Used To Enhance Education. A Visual Look At The Life Of Martin Luther King Jr. 25 Ways Teachers Can Integrate Social Media Into Education. The Habits That Make You Live Longer. 7 Ways Students Can Volunteer Over Winter Break. Why Students Should Use Twitter. The Biggest Internet Trends Of 2012. What Schools Will Look Like In The Year 2020. 50 Education Leaders Worth Following On Twitter. Our Biggest Twitter Tips For Teachers. How Teachers Are Using Social Media Right Now. The Top 10 Social Networks: What If They Were High School Students? Dozens Of Ways Teachers Can Use Pinterest. 9 Simple Tips For Connecting With Your Students On Twitter.
6 Things To Teach Students About Social Media. The 20 Biggest Education Facts You Should Know. 10 Free Web Tools For Teachers Being Used Right Now. 100 Simple Ways To Effectively Use Twitter. 25 Ways To Get The Most Out Of Twitter. 4 Twitter Superheroes Every Teacher Should Know About. How Graduate Students Are Really Using Social Media. Why-schools-are-spooked-by-social-media. 5 Must-Have iOS Apps For Writers. The Secret To Successfully Using iPads In Education. The 50 Best Videos For Teachers Interested In Gamification. The Evolution Of School Supplies. The 3 Characteristics Of A Great Teacher. 15 Popular EdTech Tools Being Used Around The World. 100 Ways To Use iPads In Your Classroom.
The 2 Hottest Educational Social Networks You're Not Yet Using. The 60-Second Guide To How Everyone Uses Facebook. Social Media. iPads For Autism? - The Arc of Aurora. Social Media for Administrators. Ten education blogs worth following. 100 Ways To Use Twitter In Education, By Degree Of Difficulty.
Sneak Preview: The Must-Have Guide To Educational Hashtags. 25 Ways To Use Twitter In The Classroom, By Degree Of Difficulty. 6 Benefits Of Being Positive On Twitter. The Ultimate Twitter Guidebook For Teachers | Education Technology, Apps, Product Reviews, and Social Media – Edudemic. 181 Google Tricks That Will Save You Time. Flipboard in Content Deal With New York Times. Facebook finally lets you edit your comments anytime. 10 Tips To Help You Use TweetDeck And Twitter More Efficiently.
25 Ways Teachers Can Connect More With Their Colleagues. 5 Ways To Be Better At Facebook. Smartphone Use: Texting Trumps News & Social Media Nearly 2:1. Which Of These 3 Private Social Networks Is Right For You?
---