Present
Blogger: Create your free Blog. Free Website Builder | Create a Free Flash Website at Wix.com.
Sketchfu. Scribble Maps - Create custom google maps with scribblings and more! Free Technology for Teachers. SearchStories's Channel. Livestream - Be There :: Broadcast LIVE streaming video. USTREAM, You're On. Free LIVE VIDEO Streaming, Online Broadcasts. Create webcasts, video chat, stream videos on the Internet. Live streaming videos, TV shows. Instructables - Make, How To, and DIY. Jing, instant screenshots and screencasts, home.
Screencast-O-Matic - Free online screen recorder for instant screen capture video sharing. Create timelines, share them on the web. Upload & Share PowerPoint presentations and documents. Group conversations around images, documents, and videos. Ken Tothero · University of Texas at Austin VoiceThread conversations are media-centric, which keeps the discussions focused.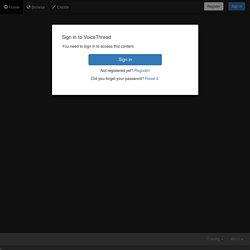 They also provide an opportunity to reflect, resulting in higher quality input. And finally, the system just plain works. The Zooming Presentation Editor.
---